Guided Camping Safaris
Your adventure camping tour in the middle of nature
Botswana Camping Safaris
Sharing stories around a crackling campfire as an owl hoots nearby and the call of a hyena travels through the cold night air while millions of stars twinkle in the sky above you, making you feel tiny and the world so grand at the same time – these are the moments that make a Botswana camping safari such a magical experience. Spend day and night in Botswana's great outdoors, entering the world of the wild, exploring the bush together with your experienced guide on game drives, bush walks and boat rides. At night, slip into your sleeping bag and enjoy the nightly bush concert from your front row seat in your tent.
Our adventure camping safari packages are designed as participation safaris and immersive camping experiences: guests assist their guide and cook with setting up and taking down tents, preparing meals, and doing the dishes. All under the wide open sky and in the middle of the bush on unfenced, private campsites. You will have a real and authentic camping experience. Wildlife is often close-by, and your guide will teach you how to behave as a temporary guest in Botswana's wilderness areas, ensuring you will be safe and relaxed. A safari professional, your guide will be your constant point of reference and window into this new environment, so different from anything you've ever known. From the tiniest ants to ancient baobabs, mighty rivers and towering giraffes, your guide will share their local knowledge with you.
You will overnight in two-person dome tents, which are 1.8m (5.9 feet) in height, spacious and equipped with sleeping mattresses. You can dust-off in simple bucket showers and enjoy your meals and morning coffee under the open sky. Our guided adventure camping safaris are best for budget-conscious outdoor-lovers looking for a true adventure in the wild. If you prefer a more luxurious camping safari, our mobile safaris might be the best trip for you.
Accommodations
OUR DOME TENTS – YOUR HOME IN THE WILD
On our guided adventure camping tours, you will overnight in two-person dome tents, sleeping on mattresses on the ground and in your sleeping bag. The tents have mosquito netting and are 1.8m (5.9 feet) high. A simple bucket shower and long-drop toilet shared by the group offer a certain level of comfort in the wild. Our specially designed camping trailer serves as storage as well as coffee and buffet station. You will stay on private and unfenced campsites in the middle of nature – wildlife is often close-by, and your guide will teach you how to behave safely as a guest in Botswana's wilderness areas. There is no electricity on the campsites, but you can charge your phone and camera in your safari vehicle while driving.
You will overnight on unfenced campsites in the middle of nature.
A bucket shower and bush toilet will be shared between all members of the group.
Assisting your guide in setting up and taking down the tents is a fun part of the experience.
Your open safari vehicle has a kitchen trailer storing all equipment to cook bush breakfast and dinner.
What to expect on a guided Botswana camping safari?
Your Botswana camping safari will get you as close to nature as no other safari: After spending the day exploring national parks and nature reserves in your safari vehicle, on foot or per boat, you arrive at your unfenced campsite in the middle of nature. Located within the protected areas or just outside its borders, you can expect wildlife close-by – your safari experience continues well into the night, until you fall asleep to the sounds of the bush. Make sure you bring warm clothes as your days start at sunrise and the air will be chilly on your early morning game drive.
A participation camping safari
Different from a serviced camping safari, our participation camping safaris get you involved in the day-to-day running of the camp: from setting up and taking down the tent, to watching the campfire, assisting with meals and doing the dishes, you will be assisting your guide and cook in the daily activities. While doing chores on your Botswana holiday might sound a bit unexpected, you will quickly notice that it's part of the experience: cleaning pots and pans while watching an elephant causally walk by and setting up tents with your fellow travellers is a very different affair than the housework you do at home. It's a true and authentic African safari experience. You will be accompanied not only by a guide, but also a camp cook who will take care of preparing all meals – so you don't need to worry about cooking dinner on the open fire.
Our adventure camping safari packages for budget-conscious travellers run as small group tours with a minimum of 2 and a maximum of 9 travellers from around the world. The tour starts on a fixed date and follows a pre-determined route. If you rather travel with your friends and family only, a private safari and even mobile camping safari may be the better option for you.
The Guided Experience
On our guided camping tours, your safari guide is also your driver – and so much more. Your guide will be your eyes and ears, your guardian, your companion. In many cases, we see guests meet their guide as strangers and part as friends. As all-round local safari professionals, our guides not only take care of your safety in the wild but share their local knowledge with you: from flora and fauna, to customs, languages, and cultures. Joining a guided tour instead of a self-drive trip gives you the opportunity to leave the driving, organisation, and overall responsibility of navigating a foreign country to a local professional. They not only know the national parks like the back of their hands but will safely get you across the unpaved roads of the bush and share detailed knowledge about the wildlife's behaviour and habitats.
The Activities
On classic game drives in your sturdy safari vehicle you will be able to traverse across famous national parks and visit even remote corners of the protected areas, looking for the Big Five and so many more. Make sure to bring your binoculars to get a good look even at the animals further away. Botswana is known for its many opportunities to explore your surroundings on water: glide silently across the meandering water ways of the Okavango Delta in your traditional mokoro dug-out canoe or watch elephant herds drinking from the Chobe River on a boat cruise. On your Botswana camping safari, you can even explore the bush on foot on a guided bush walk. After the day's activities, you will return to your campsite or setup camp at a new location, enjoy dinner under the stars and sleep in your tent as part of a real Botswana camping experience.
There is nothing quite like a camping safari to feel so in tune with nature. You spend all of your time outdoors, and experience Botswana with all your senses: from the smell of your early morning coffee to the sound of lions at night and the sight of the first rays of sunshine on the horizon. Make sure to bring a head-torch and spare batteries for your adventure in the wild.
Holger | Founder Botswana-Experience
Meet our Botswana Team
Experience Botswana through the eyes of locals.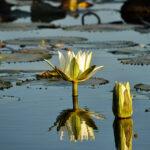 Experience Botswana with us
Speak to one of our local advisors
Let's start planning your trip!
We will get back to you within 2 working days.