The ultimate safari vehicle
Adapted to the rough conditions of Botswana's national parks
TWO DIFFERENT TYPES OF SAFARI VEHICLES
When you explore Botswana's wilderness areas on bumpy bush roads, you want a reliable partner by your side. Our safari vehicles are specially designed 4×4 Toyota Land Cruisers, adapted to the rough conditions in the national parks. On our lodge safaris, you travel in closed vehicles, while on camping safaris your vehicle will be open on both sides. Together with your experienced driver-guides, you will travel comfortably and safely when leaving the rest of the world behind.
On our lodge safaris, you will travel in our comfortable closed 4x4 Toyota Land Cruisers. Ideal for cold mornings and long driving distances.
You have a guaranteed window-seat, access to a fridge as well as sockets to charge your electronic devices. All luggage is stored in the vehicle's boot.
The pop-up roof and front hatch give you excellent views on game drives.
On our mobile as well as adventure camping safaris, you travel in an open safari vehicle. There are clear PVC sides to roll down to protect against rain.
On adventure camping safaris, all equipment and luggage will be stored in a trailer; while on mobile camping safaris, equipment and luggage will be transported in a separate supply vehicle.
In an open safari vehicle, you feel as close to nature as possible. Having no windows means having excellent photo opportunities.
WHAT MAKES OUR CRUISERS THE ULTIMATE SAFARI VEHICLE?
A lot of thought and experience has gone into the detailed design of our Toyota Land Cruiser safari vehicles. Our goal has always been to create a practical but comfortable vehicle, which is strong but remains agile. And we believe we have managed to achieve just that.
Excellent viewing through large sliding windows, pop-up roof & front hatch
Safari fridge to keep your drinks cool
Electric sockets to charge your phone and camera
Strong engines to explore the bush off the beaten track
GET TO KNOW YOUR SAFARI VEHICLE
What to pack
Remember that animals don't mind if you wear the same pair of pants for a couple of days at a time. Less is more when it comes to packing for your safari. Please only bring one piece of luggage in a soft-shell bag and not exceeding 15kg.
Vehicles
Please note that due to unforeseen circumstances or during the peak or high season, Botswana-Experience reserves the right to make use of rental vehicles that are similar, but may not have the exact same equipment that is found in our specialised vehicles.
Guides with deep local knowledge
Your driver who is also your guide will navigate responsibly through wide savannahs and thick forests, making your safety their priority at all times. We service all vehicles regularly to ensure the Land Cruisers are in top condition and will serve as your reliable companion out in the wild.
Meet our Botswana Team
Experience Botswana through the eyes of locals.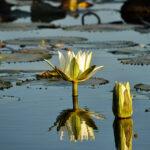 Experience Botswana with us
Speak to one of our local advisors
Let's start planning your trip!
We will get back to you within 2 working days.