Guided Mobile Camping Safaris
Fully-serviced luxury camping experience
Mobile Camping Safaris in Botswana
Take a break from the rest of the world and look forward to a true and authentic African camping safari experience: we take you to unfenced and private campsites in the middle of nature, it's just you, your friends and family and the wild of Botswana's unparalleled natural beauty. Watch elephants walk by, while you enjoy a cold drink, and the sun set after a long and exciting safari day. Your camp crew will cater to your every need on this fully-serviced mobile camping safari and make your adventure in the bush a comfortable one: from delicious meals cooked over the open fire, to en-suite bush bathrooms and proper beds in walk-in safari tents. A trip to remember, whether it's your first time in the bush or you're an experienced safari-goer.
A fully-serviced Botswana mobile camping safari is designed as non-participation safari: you can sit back and relax while your camp crew will setup and take down your tents as well as the gazebo mess tent, brew your morning coffee and cook your dinner. All equipment travels in a separate supply vehicle so you can enjoy uninterrupted game drives in your own safari vehicle. Your home in the wild is a Meru safari walk-in tent with proper beds and bedding. You have your own en-suite bush bathroom with a bucket shower and bush toilet. The luxury of our mobile camps is not only the higher level of comfort provided by the spacious tents and camp crew, but the experience of being away from it all, in the middle of nature with no other travellers in sight.
We offer mobile camping safaris as small group departures from a minimum of 2 and a maximum of 7 guests or as private safaris for your friends and family only. On our group tours, you will depart on a specific date and follow a set itinerary, while private safaris can be tailored to your wishes and needs.
Best Botswana Guided Mobile Camping Safaris & Tours
Accommodations
OUR MOBILE TENTED CAMP – SLEEP COMFORTABLY IN THE WILD
On our Botswana mobile camping safaris, you sleep in spacious Meru safari tents: you can walk in comfortably, stand up straight and have enough space to store your luggage. You sleep on field beds with mattresses and proper bedding. The tents have mosquito netting at all windows. Each tent has a private en-suite bush bathroom with bucket shower and bush toilet – a true luxury on any camping safari.
You stay at private and unfenced campsites, which means you don't have to share the space with other groups – it's just you and the wild. The gazebo mess tent as well as comfortable camping chairs and all kitchen equipment will be transported in a separate supply vehicle, driven by the cook and the camp assistant. You travel together with your guide in your safari vehicle. While there is no electricity on the campsites, you can charge your phone and camera in the safari vehicle.
Private en-suite tents, a dining area and a campfire – your mobile camp on unfenced, private campsites in Botswana.
You will sleep on proper field-beds with blankets and have enough space to move around the walk-in tent.
Your private en-suite bathroom with a bucket shower and bush toilet.
On our fully-serviced mobile camping safaris, your cook will prepare all meals for you.
What to expect on a guided Botswana mobile safari?
Our mobile camp will take you out of the city, away from the hustle and bustle of daily life and back to nature, to a place unlike anything you've ever imagined. It's a unique experience for safari lovers and nature enthusiasts. There are no concrete structures on the campsites – we bring and take everything we need, making it a mobile experience. During the day, you explore the national parks and nature reserves together with your experienced guide. When the sun begins to set, you return to your mobile camp or drive to the new location; your camp crew will be expecting you with cold drinks and a warm dinner. Your wildlife experience continues as you stay on your private campsite and listen to the sounds of the natural world around you.
A fully-serviced Botswana mobile camping safari
Different from our participation camping safari, on this fully-serviced mobile safari, you don't have to assist the camp crew in the daily camp life duties. You can sit back and enjoy, while our team takes care of your every wish. Driving in a separate supply vehicle, they will set up the camp while you're still enjoying your game drive and other activities. When you move to a new location, the team will dismantle all tents, bathrooms and mess tent gazebo to set it up at the new campsite – leaving nothing behind. You have a private safari chef who will prepare all meals in their bush kitchen, catering to any dietary requirement. You'll be surprised about the deliciousness open fire cooking creates.
The Guided Experience
Travelling Botswana with a local and experienced guide is an amazing opportunity to get first-hand local knowledge about your surroundings. Your guide, who at the same time drives the safari vehicle, know the national parks and their inhabitants inside and out. No safari day is the same, but your guide will know where to look, when to wait and see, what to expect from game drives and other safari activities in the different regions. We believe, a safari is only as good as the guide who accompanies you and we're proud to work with some of the best in the country. You can hand-over all responsibility to your guide, whether it's driving, logistics, navigation and ensuring everyone is happy and well-taken care of. As true safari professionals, they will ensure you feel well-taken care of and get the most out of your mobile camping safari in Botswana.
The Activities on Botswana mobile camping safaris
We focus on a range of safari activities on our mobile camping tours: Whether you visit the Okavango Delta, Moremi Game Reserve, Chobe National Park or the Makgadikgadi Salt Pans – no day on safari will be the same and no one can predict what exactly you will experience. In the African bush, nature is in charge.
On classic game drives, you look for Botswana's wildlife from the comfort of your safari vehicle, reaching even remote corners of the popular national parks. On boat cruises, you experience Botswana's fascinating birdlife, water-based wildlife such as hippos and crocodiles and watch elephants and buffaloes come to drink at the river. A very uniquely Botswana experience is a mokoro tour as you silently meander through the many water ways of the Okavango Delta, immersing yourself in nature. On a helicopter flight, you can see Botswana from the air and get a totally different perspective of your surroundings. After the day's activities, you return to your mobile camp and enjoy the luxurious camping experience it has to offer.
The true luxury of our mobile camping safaris is the opportunity to leave the rest of the world behind, to escape the ordinary every day and immerse yourself in some of the last wilderness areas on our planet. An opportunity to reconnect and understand what wilderness really feels like. It's the favourite way to travel for many of our travel experts and staff who are very experienced safari-goers."
Holger | Founder Botswana-Experience
Meet our Botswana Team
Experience Botswana through the eyes of locals.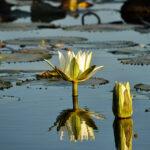 Experience Botswana with us
Speak to one of our local advisors
Let's start planning your trip!
We will get back to you within 2 working days.