Camping in Botswana
Bedroom, bathroom and kitchen – your home in the wild
DIFFERENT CAMPING STYLES IN BOTSWANA
Swap your comfy bed for a mattress in the wild! No electricity, no wifi, just you and a million stars in the night sky. Sounds daunting? We make sure your time in the bush is not just an adventure but a trip of a lifetime that includes a bush shower, toilet, and a comfy place to rest and dream. We offer Adventure Camping and Mobile Camping options with different equipment and levels of standard.
We provide all equipment for your camping safari.
Get to know your camping safari - what to expect
Adventure Camping – the authentic bush experience
On our adventure camping safaris you will experience a proper adventure in the bush, going back to basics and appreciating a break from the comforts of our modern world. These safaris are designed as participation safaris: you will assist your guide in pitching and taking down your tent, as well as help preparing meals and doing the dishes in the camp kitchen. What may sound like chores is part of the authentic camping safari experience.
You will overnight in two-person-dome tents; sleeping on comfortable mattresses on the floor.
The tents are 1.85m high, are equipped with mosquito netting and waterproof. You assist your guide in setting up and taking down the tents
The kitchen trailer for bush breakfasts and dinner.
You share a bucket shower and bush toilet with your fellow travellers.
You will stay at unfenced campsites in the middle of Botswana's wilderness areas.
Mobile Camping – the million-star hotel
Your comfortable front-row seat to a Botswana camping safari – on our mobile camping tours, you can enjoy the little extras that make life in the bush just that little bit more pleasant. Our mobile safaris are designed as fully-serviced safaris: Your guide and camp assistant will set up and take down all tents, will prepare all meals and take care of all chores around camp. You just sit back, enjoy the campfire and the million-stars twinkling in the sky above you.
You will overnight in spacious Meru style tents and relax around the campfire in the evenings.
The tents are spacious and waterproof canvas walk-in tents, equipped with mosquito netting, field beds and duvets.
You have a private en-suite bush bathroom, including bucket shower and bush toilet. Water for a hot shower is heated on the fire.
The camp staff prepare delicious meals; all equipment is transported in a separate supply vehicle.
You will stay at unfenced private campsites in the middle of Botswana's wilderness areas.
Best Botswana Guided Camping Safaris & Tours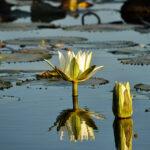 Experience Botswana with us
Speak to one of our local advisors
Let's start planning your trip!
We will get back to you within 2 working days.