Travel Advice
Get to know the ins and outs of travelling Botswana
BOTSWANA TRAVEL ADVICE - ALL YOU NEED TO KNOW BEFORE YOU GO
When travelling Botswana with us, we not only plan, organise and run your trip, we are on the ground right where you need us. And while we will ensure that you enjoy a smooth trip, there are a few things you should consider before starting your adventurous safari. With detailed Botswana travel advice from our safari experts, you will be prepared for a trip of a lifetime.
BOTSWANA AT A GLANCE
581,730 km² (224,610 sq mi)
Important cities for tourist activities
Maun, Kasane
Pula (BWP – Botswana Pula)
Around 77% identify as Christian, while 20% identify with no religion. Others follow Islam and Hinduism
Dry season: May – October (winter)
Green season: November – April (summer)
Day-time temperatures are always warm, between 23°C and 33°C and sometimes even up to 40°C (73°F to 91°F and up to 104°F)
Night-time temperatures fall to around 20°C (68°F) and can go below 10°C (48°F) during winter-time, especially in the Kalahari.
The main airport is Sir Seretse Khama International Airport (GBE) in Gaborone. However travellers mostly use Maun Airport (MUB) as well as Kasana Airport (BBK).
There is a number of nationalities that do not need a visa to enter Botswana. Please consult the embassy or consulate in your home country for visa advice ahead of your travels.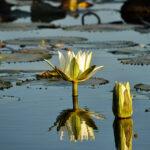 Experience Botswana with us
Speak to one of our local advisors
Let's start planning your trip!
We will get back to you within 2 working days.