Travelling to Botswana with Children
A family tour in Botswana can create memories which will last a lifetime for the whole family. It can further awaken a love for nature and a greater interest in the natural world in your young ones. There are, however certain things you want to look out for when planning a family trip to Botswana. We can provide you with the useful tips and information you need.
CAN I TRAVEL TO BOTSWANA WITH CHILDREN?
Best age for children to go on safari
Yes, you certainly can. But we do want to advise you to be careful about travelling with children in Botswana that are too young to fully enjoy a safari. Due to the nature of a safari and the camps in Botswana, many accommodations in fact require that children be at least 6 years old, some even 10 years and older, to stay there and participate in the activities.
Of course, every child is different, but usually a child from around the age of 10 years and older is the appropriate minimum age to fully enjoy a safari.
Keep in mind that parents remain responsible for their children at all times during a safari.
PLANNING A SAFARI WITH CHILDREN
What should I look out for on a Botswana family safari?
Careful consideration should be taken to limit the driving distances that need to be covered each day to maximise the time spent at the accommodations or out on activities.
Spend more than one night per accommodation. This will limit the time spent travelling and increase the amount of time you can spend enjoying your surroundings.
When travelling with young children, we recommend a private safari. This allows you to customise your itinerary to suit your travel needs. It makes for a more harmonious journey and is also more fun for the children: Unlike on our group safaris, they do not have to share the vehicle with other adults they do not know.
A private safari also means that you have your very own guide who will ensure everyone in the family is well taken care of. An excellent family safari guide knows how to keep the children engaged and interested and this frees up the parents and allows them to relax a bit more.
Some lodges are better suited to accommodate families than others. On a private safari, we can hand pick lodges and tented camps which we know are family friendly and include things such as family rooms and a swimming pool, the latter which can provide the kids with hours of fun.
A private safari also allows you to integrate more child friendly activities into your itinerary. This is particularly important as certain standard activities in Botswana have a minimum age requirement.
Depending on the character and travel experience of your child, even younger children will enjoy a safari in Botswana.
GOOD TO KNOW WHEN TRAVELLING WITH CHILDREN IN BOTSWANA
Important tips for a family safari in Botswana:
Get you children excited for the safari before they arrive in Botswana. If they are clued up on the country and know what to expect then they will have an even better time and have lots to look forward to.
Let us know if your children are a little picky when it comes to eating. That way we can inform the lodges in advance who will do their utmost to accommodate you.
If you are doing a fly-in safari in Botswana with your family, be sure to keep in mind that domestic luggage restrictions can be more limiting than those on international flights.
As for the travel documents: Botswana's regulations require you to bring a certified copy of the full unabridged birth certificate of the child you are travelling with. So, if your child is under 18, do not forget this at home.
If only one parent is travelling with the child, then the parent that is travelling must be able to provide an affidavit of consent indicating that the parent not present has given their necessary permission that the child may travel.
Final piece of advice: bring along a tablet to watch a movie, a deck of cards to play a game or a Kindle to read a book. It may not be the classic way to spend time in nature, but every parent knows that there comes the moment when you abandon all good intentions in exchange for half an hour's worth of harmony. And that is ok, even on a safari.
DISCOVER EXCLUSIVE BOTSWANA SAFARIS
OUR EXPERT ADVICE
YOU KNOW YOUR CHILDREN BEST BUT ALWAYS KEEP IN MIND:
A safari in Botswana does not come cheap; we wouldn't recommend a family spending this kind of money whilst the children are of an age where they would much rather build sandcastles at the beach than go on safari.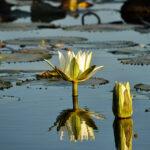 Experience Botswana with us
Speak to one of our local advisors
Let's start planning your trip!
We will get back to you within 2 working days.