Small Group Safaris in Botswana
Where your trip is about making connections, not following the crowd
EXPERIENCE GRAND MOMENTS IN A SMALL GROUP AND MAKE MEMORIES THAT WILL LAST A LIFETIME
Travelling through Botswana as part of a small group safari can be one of the most fun and enjoyable ways to explore this stunning country. Shared experiences with likeminded international travellers, will let you soak in your beautiful surroundings and allow you to maybe even make some new friends along the way.
Who should go
The perfect way to travel for solo and budget-conscious travellers
Travellers from all over the world, all with a shared love for Africa, its people and its wildlife, can come together on a small group safari. Couples who like to interact with other travellers, as well solo travellers who want to discover the beauty of Botswana within a small safari group are all welcome. Since you share the cost for vehicles and guides, budget-conscious travellers prefer group trips over private safaris.
Solo Travellers
Couples
Budget-conscious Travellers
Open-minded Travellers
On small group safaris, I can see how the dynamic in the group develops over time. Guests meet as strangers and part as friends. Everyone comes with different expectations; and my job as a guide is to ensure everyone has the experience they are looking for. Since our group sizes are smaller than with other operators, we can personalise the experience for everyone, even if it's a group tour
Lesley | Botswana Safari Guide
WHERE TO EXPERIENCE IT
THINK CHOBE, SAVUTI, OKAVANGO DELTA AND MOREMI GAME RESERVE – VISIT THE SAFARI HIGHLIGHTS AND BE ENCHANTED
You will explore the most scenic and best wildlife areas in Botswana on our small group safaris. You can visit some of Botswana's finest national parks, game reserves and even private game reserves and private concession areas depending on which small group safari you choose. We offer camping as well as lodge group safaris.
When to go
Small group tours have set departure dates. Departure dates vary, depending on the tour, but are scheduled at regular intervals. With a minimum of just two people required to guarantee a departure, your chances of having the departure confirmed with us are very good if you are a single traveller and already guaranteed if you are a couple.
Set departure dates
Year roundHigh season and low season departures available
Year roundHigh season and low season departures available
Small group safaris set out on specific departure dates. A quick look at our dates overview will show you when a particular Botswana small group safari is set to start and end. Some itineraries focus more on specific regions in Botswana in order for you to get a more intimate feel for them. During certain times of year, certain regions present themselves in their most spectacular light and so naturally, we will have more set departures scheduled for this time of year for you to choose from. This is one of the reasons why first time Botswana travellers, as well as returner travellers alike, love going on small group safaris – there is always something new to discover.
Accommodations
SMALL AND PERSONAL LODGES AND CAMPS
Many people associate group tours exclusively with camping tours, but with us, this is not the case. Of course, we offer mobile camping as well as adventure camping on a group basis, but we have also carefully crafted small group lodge tours too. And the best part is, because of our small group size, we can often stay at small, handpicked lodges. Accommodations where you are greeted by your name and not by a three-digit room number. The lodges we use on our small group safaris lie within the three-to-four-star quality range and particular emphasis is given to their character and excellent location.
Planet Baobab
Camping on unfenced campsites
Chobe Elephant Camp
Mogogelo Camp
Old House Guest Lodge
Highlights on small group tours
What to expect on a small group safari in Botswana

Travelling in a small group is one of the easiest ways to explore some of the best wildlife areas of Botswana. We offer small group departures for our lodge, mobile camping and adventure camping tours. No matter the accommodation, each departure will always include the services of an excellent safari guide and you will travel in a first class 4×4 safari vehicle, custom designed for great game viewing. If you are an openminded traveller who likes to meet people, then a Botswana small group tour could be perfect for you.
We take you to some of the highlights and best places for wildlife viewing in Botswana.
You will travel in a small group of not more than 7 or 9 people, the language spoken by your guide is English.
You will travel in a 4x4 safari vehicle, specially designed for wildlife viewing. On our camping safaris we make use of open safari vehicles.
Why to go on a small group safari in Botswana
Small group travel is the best value for money way to explore Botswana for single travellers and couples alike. Cost of travel is shared between the group which means you are able to visit more places and experience more things at a lower price than if you travel privately. Naturally, this is one of the reasons why travellers from all over the world love to take part in our small group tours. And, when we say small, we mean it. Our group departures are guaranteed with a minimum of two and a maximum of seven or eight people, depending on the itinerary. With a small group size like this, you will never feel crowded when on safari or overwhelmed by the size of your group.
Advantages of travelling with a group
Our small group sizes have many additional advantages. Just three further advantages are:
They allow us to go on safari in our own 4×4 safari vehicles, which are custom built to ensure excellent game viewing possibilities.
Your dedicated safari guide will be able to focus more on the needs and wishes of each member of the group than would be the case in a larger group.
A smaller group means less time waiting for other travellers, easier travel logistics and generally a more relaxed atmosphere on safari.
With a small group safari, everything is already in place and pretty much ready for you. Once you have found an itinerary which is perfect for you, you can simply hop on board…figuratively. Everything will be prepared and taken care of for you. This makes group safaris especially popular with people who are very busy in their everyday lives as well as potential last-minute travellers. There really is something thrilling about a spontaneous, last-minute decision to go on safari, and we can make that happen for you.
Where to go on a small group tour in Botswana
A small group safari will also in no way leave you feeling like you missed out on seeing something spectacular in Botswana. The destinations visited on our group safaris range from the wide expanses of the Kalahari, including the famous salt pans of the Makgadikgadi and Nxai, to the wildlife rich northern regions of the Chobe National Park, the Savuti region, the Moremi Game Reserve and even the Okavango Delta.
You can visit these world-famous national parks and public game reserves and in certain places, even stay at some of the exclusive private game reserves and private concession areas. These are particularly enticing as access is limited to only a certain number of people. The length of a scheduled group safari can range between four and eleven days of adventure and safari filled bliss. And we have a variety of small group itineraries available, meaning that you can choose for how long you would like to travel Botswana and select an itinerary which suits you.
Kubu Island
See a million stars in the magical night sky
Chobe National Park
Experience exciting wildlife moments
LET YOUR BOTSWANA SAFARI ADVENTURE BEGIN
By deciding to explore Botswana on a small group tour, you are opening yourself up to a wonderful adventure which you will be able to share with like-minded travel companions. Whether on a lodge, mobile camping or adventure camping safari, you will visit tremendous wildlife regions and can absorb all of the beauty which Botswana has to offer without breaking the budget.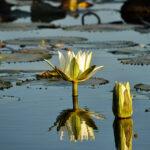 Experience Botswana with us
Speak to one of our local advisors
Let's start planning your trip!
We will get back to you within 2 working days.