Top places to visit in Botswana
The most popular attractions for Botswana safaris
Where to go in Botswana
One of the most exciting destinations for nature travel and safari adventures, Botswana offers a number of attractions if you're looking for an exclusive experience in Southern Africa. It is not only home to world-renowned places such as the Okavango Delta but will take you to places of unexpected beauty and true wilderness. Despite being known as a top safari destination and due to its high-value tourism strategy, Botswana will never feel crowded, even when visiting the main attractions.
You can explore Botswana on guided tours and visit its top attractions together with a professional guide who will share their local knowledge with you. If you're a confident driver, you can even experience the country on a self-drive tour in a rental vehicle.
What makes Botswana special is the variety of safari activities you can join to explore the country: classic game drives, bush walks, hot air balloon safaris, as well as excursions in boats and traditional canoes.
Bordering Namibia, South Africa, Zimbabwe, and Zambia, you can extend your Botswana trip to visit some of the attractions in the neighbouring countries as well: from the Victoria Falls to the Namib Desert and Kruger National Park.
View Full Map
MAP OF BOTSWANA
You can travel Botswana on a guided safari or self-drive tour but should always opt for a 4×4 vehicle and even a small aircraft to reach and enjoy the top attractions.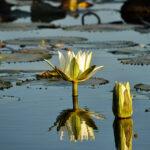 Experience Botswana with us
Speak to one of our local advisors
Let's start planning your trip!
We will get back to you within 2 working days.