Private Safari Tours in Botswana
Experience magical moments in nature with your family and friends
EXPLORE BOTSWANA WITH YOUR FAMILY AND FRIENDS ON A PERSONALISED SAFARI
A private safari allows you to explore Botswana's fantastic wildlife and beautiful landscapes at your own pace and completely undisturbed. By opting for a tailormade itinerary, we can customise your private safari experience according to your wishes and ensure you have an unforgettable adventure.
Who should go
A special experience with your special people
Anyone who wishes to have a customised and private Botswana safari experience. A private safari is perfect for groups of people who wish to travel together, travellers with special interests or couples who are celebrating a special occasion.
Families & Friends
Photographers
Romantics
Birders
You are returning from another successful game drive, when your private safari guide spots a leopard in a tree up ahead. You stop and the sun begins to set, but you are in no rush. There is no one else around and you have this amazing moment all to yourselves.
Marlene | Botswana Travel Expert
WHERE TO EXPERIENCE IT
VISIT THE HIGHLIGHTS OR TRAVEL OFF THE BEATEN TRACK – WE WILL ADVISE YOU ON THE BEST ROUTE FOR YOUR PRIVATE SAFARI
On a Botswana private tour there are many different places which you can explore. These not only include national parks, but can also include private game reserves, private wildlife concession and special community areas. When planning your trip, our travel experts will not only advise on the best season to visit an area, but also on driving distances between wilderness areas, so you spend less time travelling from A to B, and more time enjoying the experience.
When to go
One of the benefits of a private safari tour is that you can choose when you want to travel, as you are entirely flexible to select your own desired travel dates. Just tell us when you want to go, what you'd like to experience. We will advise whether your preferred travel time is ideal and take care of the rest.
Dry Season
May to OctoberBest for wildlife sightings and water-based activities
May to OctoberBest for wildlife sightings and water-based activities
The dry season during the winter months on the southern hemisphere are between May and October. During these months, wildlife viewing is great as the vegetation recedes and animals come to the various water bodies to drink. Counter-intuitively, the dry season sees the highest water levels in the Okavango Delta which means mokoro safaris in traditional canoes are best enjoyed during these months. June to September are also the high season and accommodations can be booked up far in advance. This doesn't mean it will be busy though: Camps and lodges allow limited visitor numbers, and a private Botswana safari will always be an exclusive experience, no matter the season.
Green Season
November to AprilBest for zebra migration and spectacular landscapes
November to AprilBest for zebra migration and spectacular landscapes
Botswana experiences rainy summer months between November and April. The rainy season turns the landscapes lush and green, creating spectacular colours and light especially for avid photographers. You will still experience great wildlife sightings and it will usually not rain the whole day but be limited to thundershowers in the afternoon. Visitor numbers are even lower than they are in Botswana anyways, creating an even more private safari experience. Dry areas like the Makgadikgadi Pans and the Central Kalahari are transformed, attracting birds and wildlife at their seasonal lakes. A highlight during Botswana's green season is the zebra migration in the Makgadikgadi and Nxai Pans.
Accommodations
YOUR HOME AWAY FROM HOME IN BOTSWANA'S WILDERNESS AREAS
On a private safari, you can decide between different types of accommodations: whether you want to experience authentic bush life on an adventure camping safari, enjoy the luxuries of a mobile camp in the wild or stay at one of the comfortable lodges and tented camps in remote corners of the national parks. Botswana is known for its personal and intimate camps where you are welcomed as a guest, not just a room number.
Chobe Bakwena Lodge
Setari Camp
Rra Dinare Camp
Okuti Camp Botswana
Camp Kalahari
Adventure Camping
Mobile Camps
Highlights of a private Botswana safari holiday
Why to book a private Botswana safari
A private safari is one of the best ways to explore Botswana. It allows you to choose with whom you wish travel, to custom design an itinerary according to your individual preferences and you get to enjoy the services of a dedicated safari guide, who accompanies you on your tour. In addition to this, you can also visit private game reserves on your private Botswana safari, giving you an even more exclusive safari experience.
Enjoy as much time as you like watching Botswana's wildlife on your game drives.
Your private safari guides will share their local knowledge with you.
You will experience exclusive and personal moments in nature, making memories that will last a lifetime.
What to expect on a private Botswana tour
You decide who joins the trip
You get to decide with whom you travel. Perhaps you wish to travel through Botswana only with your partner and no one else? Then a private safari is what you want. It is perfect for couples who desire a private getaway, just the two of you, particularly if you are celebrating a honeymoon or a special anniversary. Alternatively, you also have the option of creating your own little group of family or friends. Often, the costs of a private safari will decrease if you travel in a private group as opposed to just a couple, which makes this a very popular option.
Your itinerary is completely personalised
We can assist in creating the perfect travel itinerary specifically for you. Your itinerary can be wholly customised to your wishes and expectations. On a private safari we can suggest accommodations based on your personal specifications and your budget. For example, if you are travelling as a family with young children, we will make sure to include child friendly accommodations for you.
The actual itinerary can then also be constructed in such a way that the each travelling day is not too strenuous and your children have plenty of time to play and enjoy themselves whilst on tour. We can also include different activities for the entire family, matching to your interests. All you need to do is, tell us for how many days you want to travel, with how many people, the type of accommodations you have in mind and what you wish to experience, and we will make it happen for you!
You have the undivided attention of your guide
As anyone will tell you, a great safari is only possible when you have a great safari guide at your side. And our guides, are the best of the best. When on a private Botswana safari, you will be accompanied by your own dedicated safari guide and travel in your own private safari vehicle. Your guide will take care of all the necessary travel logistics, meaning you can relax and enjoy yourself whilst being in the safest of hands. A trained and experienced safari guide will be able show you animals on safari which you would normally never have spotted and fascinate you with things, which you never thought would ever fascinate you. They are always happy to share their vast knowledge of the local fauna and flora which ranges from lion to antlion, from leopard to leopard-orchid. On a private safari, you will benefit from your guides undivided attention.
You can focus on special interest safaris
This is particularly true for travellers who have keen special interests. A Botswana private safari is ideal for photographers and avid birders for example. Not only can special care be taken to create an itinerary which takes your interests into account, but your private guide can focus on making just you happy and does not need to worry about pleasing any other travellers. So, if you want to spend the day only looking for rare and unique birds, your guide will gladly make that happen for you and take you to all the best spots he knows.
Your travel dates are flexible
On a private safari, you are flexible to choose your own travel dates and you do not need to adhere to any predetermined scheduled departure dates. This means that there really is no right or wrong time to travel to Botswana. Each destination has something special to offer at different times of the year. This could mean exploring the exhilarating northern areas of Botswana such as the Okavango Delta, the Chobe National Park or the Moremi Game Reserve. Or perhaps, the rugged southern Kalahari areas such as the Central Kalahari Game Reserve, the Kgalagadi Transfrontier Park and the Makgadikgadi and Nxai Pans. The south of Botswana really comes alive in the green season for instance while conditions in the north are perfect in the dry season. On a private safari you can visit all these amazing attractions at your own pace and at a time which suits you.
Wildlife Experiences
Uninterrupted moments with your favourite animals
Special Interest Safaris
For photographers, birders, naturalists and more
What is a private game reserve in Botswana?
There is another distinction to be made when talking about a private Botswana safari and that is between national parks and private game reserves. Essentially, national parks are state run, whilst private game reserves are privately managed. Private game reserves are therefore often more luxurious and pricier. The differences between the two can further be expressed in terms of differences in exclusivity and in activities:
Access: Entrance to private game reserves is limited to the guests of the reserve. Usually, there is only one or only a few accommodations in each private game reserve, so the number of visitors is limited. This provides you with a more exclusive and private safari experience, one where you are less likely to encounter other travellers also on game drive. Of course, you can still enjoy a fantastic game drive with a private safari guide and in a private safari vehicle in a national park, however the difference is that these parks are open to the public and thus visitor numbers are not restricted.
Activities: Another difference is that in a private game reserve, you are permitted to go off road in search of animals, go on night game drives and walking safaris, all of which are not allowed in national parks. This contributes to why some believe private game reserves provide the best game viewing opportunities in Botswana. If you want a truly private, undisturbed safari experience and have the necessary budget at your disposal, a private game reserve could very well be the best choice for you.
YOUR BOTSWANA HOLIDAY - CUSTOMISED TO YOUR EVERY WISH
The options are almost limitless when it comes a private safari in Botswana. With the help of our travel experts, we will create the perfect private Botswana safari experience of a lifetime for you.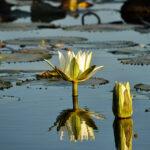 Experience Botswana with us
Speak to one of our local advisors
Let's start planning your trip!
We will get back to you within 2 working days.