What to do in Botswana
The most popular tourist activities in Botswana
Adventure and safari activities in Botswana
Botswana is known as one of the best places in the world to go on safari and experience Africa's wilderness areas, some of the last on our planet. On classic game drives in your custom-built 4×4 safari vehicle, you look for the Big Five and enjoy magical moments in nature. But there are many more things to do and ways to experience and appreciate the natural world around you. Whether it's your first visit to Botswana or you're a regular, these are some of our favourites: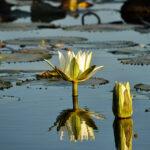 Experience Botswana with us
Speak to one of our local advisors
Let's start planning your trip!
We will get back to you within 2 working days.