Botswana Walking Safaris
Explore the African bush on foot
LET'S GET OUT OF THE CAR AND TAKE IN THE SOUNDS AND SMELLS AND COLOURS OF THE AFRICAN BUSH ON A BOTSWANA WALKING SAFARI
There is no better way of witnessing Botswana's fantastic plant and wildlife up close and personal than on a walking safari. Being on foot in some of Africa's most pristine landscapes, awakens your senses. A bushwalk with the local San in the Kalahari or the Makgadikgadi will then also provide you with insights into their ancient way of life. By stepping out of the vehicle and taking things slow, you gain a deeper appreciation of the natural world around you and of those who live in it.
Who should go
Our bushwalks: an active adventure and a learning experience
Perfect for those who like to slow down and admire nature up close. You get to remain active and enjoy the thrill of being on foot amidst Botswana's vibrant wildlife. But it is not just for the thrill seekers amongst you, if you are interested in learning more about the culture and life of the San, then a bushwalk will also be an amazing experience for you.
Adventure seekers
Cultural enthusiasts
Active travellers
Wildlife aficionados
We stood silently near the riverbank and observed as a herd of elephants was drinking and splashing about in the river ahead. We stood at a safe distance, and they hadn't noticed us, so we got to watch them completely undisturbed. It really felt like we had walked into their world unopposed, and we felt like we became a part of it.
Holger | Founder of Botswana-Experience
WHERE TO EXPERIENCE IT
ADMIRE WILDLIFE IN THE OKAVANGO DELTA AND ROCK ART AT TSODILO HILLS
Where to go on your Botswana walking safari, depends on what you wish you experience. For those wanting to immerse themselves in the natural world, the private game reserves as well as the private concession and community areas in the north of Botswana and the Okavango Delta are the best places to visit.
Those who want to learn more about the lives of the San on the other hand, should travel to the wide-open vistas of the Kalahari and the Makgadikgadi and to the sacred Tsodilo Hills.
When to go
Botswana has warm daytime temperatures throughout the whole year. The best time of year to go on a Botswana walking safari or hiking tour is therefore during the dry winter months between May and August.
Dry Season
May to AugustBest for cooler temperatures and wildlife sightings
May to AugustBest for cooler temperatures and wildlife sightings
No matter whether you intend go on a walking safari or a cultural bushwalk, the best time of year to be active in Botswana is in the winter, between May and August. Botswana has a warm climate which means that even in winter the daytime temperatures range between pleasant to warm. The winter is also the dry season, which means that it is the best time of year for animal sightings.
During the summer months, the temperatures can get very hot and therefore, walking activities, although still possible, are restricted to the early morning and the late afternoon. Summer also coincides with the wet season and although the rain showers in the summer are only intermittent, they can leave the ground wet and muddy. These conditions are obviously not ideal for walking, but that does not mean that it cannot be done. You could have a fantastic walking safari or bushwalk at any time of year.
Highlights on walking safaris in Botswana
Is a walking safari worth it?

To go on a walking safari is to gain a better understanding of Botswana's wildlife, its nature and its indigenous peoples. You become more in tune with the natural world around you once you step out of the car and your senses are awakened by the thrill of the wild. Whether you are interested in discovering Botswana's fantastic wildlife for yourself or wish to find out more about how the San survive in some of the harshest environments in the world, on a Botswana walking safari you can explore both.
Your experienced guide will explain the tracks you come across on your bush walk.
You can go on walking safaris in private conservancies outside the public national parks.
An armed and experienced guide will accompany you on walking safaris.
Why go on a nature and bush walks?
When you take the time to slow down and walk through the pristine landscapes of Botswana, you will start to notice things which you otherwise would normally have simply driven by. The cry of the fish eagle overhead, the smell of the morning dew on the tall grass, the touch of the bark of a Baobab tree or the fresh paw prints in the sand. They all become more tangible and real when you experience them on foot.
Watch a parade of the voracious Matabele ants as they march on by, study the patterns of the shells of a leopard tortoise and try match any tracks you may find to a particular type of animal nearby. You have the chance to learn so much more when you take things slowly. You leave your comforts behind and you can begin to explore the beautiful wildlife areas of Botswana in the most ecologically friendly way possible. There is nothing to separate you from nature.
Is a walking safari safe?
Throughout your walk, you will be accompanied by a skilled and trained walking safari guide. Your guide will not only be able tell you more about the fauna and flora all around you, but also keep you safe throughout your time in the bush. A walking safari takes you into wild territory, where prey and predators alike are to be found. Therefore, your guide will be armed with a rifle and will communicate clear instructions to you on how to behave when on a walking safari.
Where to go hiking in Botswana?
In order to best enjoy your walking safari experience in Botswana, you must travel to the private game reserves or the private concession and community areas in northern Botswana. The north of Botswana is famous for its high wildlife density which makes the region particularly exciting. Walking safaris are unfortunately not permitted in the public national parks, but in private game reserves and in private concession and community areas however, the lodges and tented camps are allowed, and often do, offer walking safaris as part of their daily activities. Nowhere is this more exciting than in the Okavango Delta. You never truly know what you may come across here as the region is home to a host of wildlife including giraffe, zebra, hippo as well as rhino, buffalo, lion and leopard. Luckily, your guide will always be at your side and knows the region like the back of his hand.
What to experience on a walk with the San people

There is another, completely different walking experience which Botswana offers. Walking with the San on a bushwalk. Here the emphasis lies less with the tracking and the discovery of animals, although this may also happen, but is aimed more at providing an insight into the fascinating lives of the San people and how they have learned to survive the harsh environment which they inhabit. The best places for a bushwalk with the San is in the arid Kalahari and near the immense Makgadikgadi Salt Pans.
As you walk through the wide-open spaces, your local guide will explain to you the various uses of different plants in the region. Some plants can be used for medicinal purposes, while others contain poison which can be extracted and is then applied to the San's hunting arrows. You might be shown where to look for roots which contain precious water, a valuable asset when in the middle of this arid landscape. You can listen to stories, some of which have been passed on through generations and learn more about the San and their cultural beliefs. By taking a walk with the San, you will be afforded a glimpse of the wealth of knowledge these people possess and of their incredible connection to the natural environment.
The Tsodilo Hills Hike
For more insights into the ancient lives of the San, a visit to Tsodilo Hills is also highly recommended. Considered sacred by the San, the area is home to over 3 500 original rock paintings. This makes it one of the places with the largest concentration of rock art in the world. Various hiking trails can lead you to different sites where you can admire these incredible relics from the past, some of which are thousands of years old. As you walk along the many paths, you cannot help but feel a sense of mysticism and a touch of the aura which surrounds the Tsodilo Hills.
Private Conservancies
Walk in the wild with an experienced guide
Wildlife Sightings
Antelopes, zebras, and even elephants can be seen
IMMERSE YOURSELF IN NATURE
By immersing yourself into the natural world of Botswana, you will gain a deeper appreciation and understanding of its fascinating fauna and flora. You can even learn more on how the ancient San have learnt to coexist with the ecosystem around them. To achieve this, you need to abandon the comfort of your cushioned seat, lace up your hiking boots and embark on an adventure. You will be rewarded with fascinating insights and wonderful memories.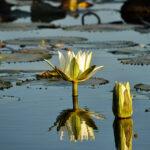 Experience Botswana with us
Speak to one of our local advisors
Let's start planning your trip!
We will get back to you within 2 working days.