Weather and Climate of Botswana
When one thinks of Botswana it is often the water filled Okavango Delta or the arid Kalahari that comes to mind. Maybe it is the salt pans you think of or perhaps you thought of all three. Botswana's diverse landscapes exist due several reasons, not least its climate. Keep in mind, Botswana is in the southern hemisphere. So, if you are experiencing a cold winter in the northern hemisphere, Botswana will at the same time be enjoying hot summer temperatures. This information will come in handy when faced with the question of what clothes to pack for Botswana.
WHEN IS WINTER AND WHEN IS SUMMER?
Botswana's winter loosely coincides with the driest months of the year. These dry winter months stretch from May to August. Things then start heating up in September and October, with many believing that these are in fact the warmest two months of the year.
November brings the start of summer and with-it sporadic rain showers in the afternoon to cool things off. Summer then generally lasts until April before autumn rapidly blends into winter again.
WHEN IS THE DRY SEASON AND WHEN IS THE GREEN SEASON?
The fact that the word for rain in the local Setswana language is synonymous with "blessing" shows how treasured rain is in Botswana. Generally, considered an arid country the yearly rains are vital for the survival of flora, fauna and the local communities.
In November (or October if it is an early year) the rains arrive and usually last until April. They reach their peak in December and January as these form the two wettest months of the year.
But don't be concerned if your travel plans fall during the green season. This time of year holds many special attractions and highlights. You will still enjoy plenty of daily sunshine (more than most European summers in fact) and because the rains occur in scattered afternoon thundershowers you will still have plenty of time for outdoor activities.
Here, we share the best time to travel to Botswana depending on season, region, and activities.
WHAT ARE THE TEMPERATURES LIKE IN BOTSWANA?
You can look forward to warm daytime temperatures in Botswana, no matter when you decide to travel. The temperatures range from pleasantly warm in the winter (the coldest daytime temperature being around 23°C) to sweltering hot in the summer where temperatures can reach up to 40°C (but usually average around 33°C).
At night, things do cool down in summer to around 20°C but be warned: the thermostat falls drastically in winter at night-time. Single digits are not uncommon, and this is particularly true in the Kalahari where even below freezing temperatures can be seen (and felt if you are camping).
From hot and arid to lush and green – the climate in Botswana is different depending on region and time of the year.
WHAT CLOTHES SHOULD I PACK FOR MY BOTSWANA TRIP?
Summer: For the summer months you want to be prepared so that any possible rain shower won't catch you off guard. Therefore, bringing a light raincoat will be a good idea. But also bring along a sunhat as you will still have plenty of sunshine. A jersey or jacket for the evenings will be a good idea too, if you are someone who susceptible to the cold.
Winter: As the temperatures can drop dramatically during the winter evenings, be advised to have a warm jacket with you and possibly even a beanie, scarf and a pair of gloves. During the daytime, you can comfortably take your warm layers off and enjoy pleasant temperatures.
Additional items which you can bring all year round:
A pair of closed shoes and a pair of flip flops
A swimming costume
Light, long sleeved tops and light, long trousers (as defence against pesky mosquitos)
Sunglasses
Have a look at our extensive packing list for detailed information on what to bring for your Botswana safari.
DISCOVER EXCLUSIVE BOTSWANA SAFARIS
OUR EXPERT ADVICE
FOUR SEASONS IN ONE DAY
Our strategy when it comes to packing clothes for a Botswana safari: Be prepared for four seasons in one day. In winter, the days are warm, but the nights are cold and in summer the days are very hot with scattered thundershowers in the afternoon. Also, don't forget your bathing suit – no matter when you travel.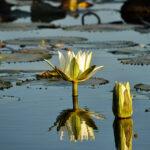 Experience Botswana with us
Speak to one of our local advisors
Let's start planning your trip!
We will get back to you within 2 working days.