Botswana Honeymoon Safari
Romantic getaways in Botswana
A BOTSWANA HONEYMOON SAFARI BLENDS ROMANCE WITH EXCELLENT GAME VIEWING; PRISTINE WILDERNESS LANDSCAPES AND A VARIETY OF ACTIVITIES TO ENJOY
Botswana is the perfect destination for newlyweds wanting to go on a honeymoon safari. You will find the perfect blend of romance with excellent game viewing, pristine wilderness landscapes, and a variety of activities to enjoy on a Botswana honeymoon safari.
Who should go
Experience the magic of the natural world around you
Botswana has plenty to offer to those seeking a romantic getaway. Whether you wish to experience an incredible honeymoon, celebrate a special anniversary, or simply want to go on a romantic holiday as a couple, Botswana has the enchantment you are looking for.
Honeymooners
Couples on Anniversary
Romantics
Newlyweds
WHERE TO EXPERIENCE IT
EXPERIENCE TRANQUILITY AND EXCLUSIVITY IN THE REMOTE WILDERNESS AREAS OF THE OKAVANGO DELTA
Although there are several beautiful locations to visit on a Botswana honeymoon safari, the Okavango Delta is the par excellence in romantic safari experiences. The remoteness of the camps and the fact that many offer only a limited number of rooms, lets you feel as if you have the entire Okavango Delta to yourselves.
When to go
Both seasons are excellent for a romantic getaway. The dry season is excellent for wildlife viewing and allows you to explore more water-based activities. The green season features even more beautiful, lush scenery and less crowds means more privacy for you.
Dry Season
April to OctoberBest for wildlife viewing and water-based activities
April to OctoberBest for wildlife viewing and water-based activities
No matter which time of year you plan to go on your honeymoon, you will find a special reason to visit Botswana during each of its seasons. Botswana's climate can generally be described as consisting of a dry season (winter) and a wet season (summer). Summer in the northern hemisphere coincides with winter in the southern hemisphere. Therefore, you can have a wonderful summer wedding in the northern hemisphere, before departing for a lovely warm honeymoon in Botswana. This is the best time of year for game viewing and temperatures are warm in the day and cool in the evening. The dry season is also the best time of year for water-based activities. If going on water-based activities is important to you, then this is the time of year to go on your Botswana honeymoon.
Green Season
November to MarchBest for birdlife and great deals
November to MarchBest for birdlife and great deals
Travelling during the wet season offers its own unique rewards in Botswana, especially for honeymooners. Temperatures range from warm to hot and rainfall comes in regular thundershowers. There is something terribly romantic about watching out over the wide, open African landscape and seeing a thunderstorm raging on the horizon. Luckily, the rain showers don't usually last very long and you will still experience plenty of sunshine on a green season safari. During this time of year, the vegetation blossoms and the green scenery makes for spectacular landscapes. You will come across beautiful butterflies and a wonderful variety of colourful birdlife. Game viewing is not as easy as it is in the dry season, but you will still be able to experience fantastic safari moments.
As less people generally travel during the wet season, you will also be even more private in your tranquil surroundings than otherwise. Sometimes you might even have the camp almost to yourselves. Another benefit is that during the wet season, some of the accommodations lower their rates. Who knows, maybe this allows you to spoil yourselves a little bit more and visit some of the more luxurious lodges or tented camps which otherwise would have been outside of your budget?
Accommodations
ENJOY PRIVACY AT SOME OF THE MOST REMOTE CAMPS ON THE PLANET
With so many exciting activities possible, remember to take some time to also relax and enjoy your lodging. Perhaps you would like to spend an afternoon simply lounging around the pool with an ice-cold drink nearby? Why not and who knows, maybe the local wildlife will even come to you whilst you are doing so. Coincidently, many of the lodges and tented camps in Botswana are small and intimate, allowing you to fully immerse yourself in your romantic surroundings. This ties in perfectly to Botswana's tourism philosophy of providing "high value, low volume" experiences. As such, there are many unique and elegant accommodation options available in Botswana, with excellent service staff and delicious food in fantastic wildlife areas. The perfect recipe for a romantic getaway.
San Camp
Camp Kalahari
Rra Dinare Camp
Chobe Bakwena Lodge
Setari Camp
Highlights in Botswana
Why to go on honeymoon in Botswana
Soak in the golden glow of the sun as it sets over sparkling waters and gaze at elephants appearing silhouetted near the water's edge. Botswana offers a fantastic romantic getaway for honeymooners who wish to experience tranquillity in an amazing wildlife setting.
Botswana offers one of the last true pristine wildernesses on our planet. Home to an extraordinary amount of wildlife, it is one of the select places which every enthusiastic safari-goer dreams of visiting. The different habitats and ecosystems in the various national parks and game reserves all offer you spectacular and varied safari possibilities. From witnessing the enormous elephant herds of the Chobe National Park, to seeing the lions of the Savuti. Whether finding the rare African wild dogs in the Moremi, or tracking the thousands of zebras who migrate to the Makgadikgadi and Nxai Pans each year. You will be amazed at the terrific wildlife Botswana has to offer.
See big cats in the wild and make memories that will last a lifetime.
Enjoy romantic moments in stunning settings unlike anything you've ever seen.
Experience different activities like a walking safari together with professional local guides.
What to experience on a honeymoon safari in Botswana
There are many ways for you to explore these beautiful landscapes and to witness this spectacular wildlife for yourself. Traditional game drives with an expert safari guide by your side, is an excellent way to get close to the animals and to observe their behaviour. You could also drift silently along the waters in a mokoro, a traditional dugout canoe, steered by a local poler, and float through the maze of the Okavango Delta's waterways. This sure is one of the ultimate ways to hear the sounds of nature around you completely undisturbed.
While we are on the topic of water activities, you can also go on a boat cruise. Here you are more likely to come across animals making their way to the water's edge to drink, swim, and play. Top this off with a beautiful sundowner along the way to end another perfect day. Further activities include bushwalks, night game drives, horse riding, helicopter flights and even romantic hot-air balloon flights.
The best destinations for a romantic getaway to Botswana
Many of Botswana's wilderness regions are excellently suited to a honeymoon safari. Imagine sleeping out on the Makgadikgadi Salt Pans, lying directly under a blanket of stars the likes of which you may not find better anywhere else in the world. However, the best place in Botswana for a newlywed couple to celebrate their marriage is arguably the Okavango Delta. The remoteness of the camps as well as the limited guest capacity of the camps will leave you feeling like you have the entire Delta to yourselves. Wonderful game viewing possibilities and plenty of activities round off what could be the crowing of your magical honeymoon experience.
Makgadikgadi Pans
Secluded and exclusive experiences
Chobe National Park
Exciting wildlife encounters
YOUR DREAM HONEYMOON AWAITS
Botswana ticks all the boxes for a romantic honeymoon safari. With so much to offer in terms of beautiful landscapes, tremendous wildlife, exciting activities, and intimate lodges it really does provide the complete package. A Botswana honeymoon safari will allow newlyweds to begin their marriage in the most unforgettable way possible.
Private Fly-In Safari
Botswana Fly-In Safari
Places Okavango Delta, Moremi Game Reserve, Chobe National Park, Victoria Falls
9 Days
USD 4,570 per person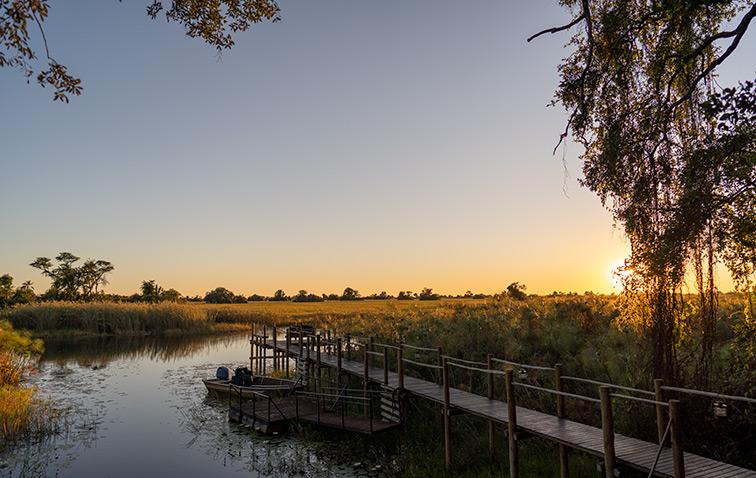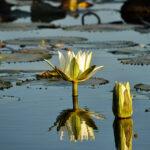 Experience Botswana with us
Speak to one of our local advisors
Let's start planning your trip!
We will get back to you within 2 working days.