Mokoro Safaris
Explore the water ways of the Okavango Delta in a canoe
IMMERSE YOURSELF IN A WORLD UNLIKE ANYTHING YOU'VE EVER EXPERIENCED
A Botswana mokoro safari is one of the highlights of any Botswana visit. By silently moving through a labyrinth of waterways in the Okavango Delta, you can immerse yourself in your environment and gain a wonderful new perspective on the majesty of this unique habitat. Surrounded by beautiful landscapes and with animal sightings both large and small possible, you soon realise why a mokoro excursion is a key ingredient to the complete Botswana safari experience.
Who should go
A highlight for photographers and birders
A mokoro trip in the Okavango Delta is recommendable for both those who are discovering Botswana for the first time and those who are returning for more. It awakens the adventurer in you and lets you discover things which you may otherwise never have seen. Keen photographers and birders take special delight in a canoe safari, as they can silently approach the wildlife and birdlife without disturbing the creatures and get great angles and vantage points for amazing photographs.
Adventurers
Photographers
Birders
First Timers & Returnees
The most delightful thing for me on my mokoro trip in the Okavango Delta was the sounds I heard as I was drifting along the water. I could hear the wind moving through the reeds, the chirping of the insects nearby and then, I heard the cry of an African fish eagle overhead. It was just my poler and I, exploring one of Africa's most pristine ecosystems in the most tranquil way possible.
Luisa | Botswana Travel Expert
WHERE TO EXPERIENCE IT
ONE OF THE MOST SPECTACULAR WILDERNESS AREAS ON OUR PLANET
There is no better place in the world for a mokoro safari than the Okavango Delta. Its sparkling, shallow waters, dotted with lily pads and tremendous wildlife creates an environment that is perfect to explore in a mokoro. With an experienced local poler leading you through this maze of waterways, you are able to reach places in the Okavango Delta which cannot be accessed by vehicle and witness things which you won't be able to see or experience anywhere else.
When to go
At certain camps in the Okavango Delta you can go on a mokoro safari pretty much throughout the year. These so-called water-based camps are located on the edge of permanent rivers and lagoons. For the rest of the Delta, the best time of year for a mokoro trip is during the dry season from May until September. Water levels are at their highest point at this time of year and temperatures are usually cooler than during the hot summer months.
Dry Season
May to SeptemberBest for high water levels throughout the Delta
May to SeptemberBest for high water levels throughout the Delta
There are various ways in which you can enjoy a mokoro excursion and you don't always have to fly deep into the Okavango Delta to take part in a mokoro safari. Some lodges in Maun offer different mokoro activities that range from a couple of hours on the water to a whole day excursion. Mokoro excursions can usually be undertaken in the cool morning hours, or in the evening. It can even be combined with a refreshing sundowner in the evening too. There really are a number of options available to you.
The activity is naturally water-level dependent, and water-levels are at the highest point during the dry season. In other words, it is during the months of May to September where most mokoro activities are undertaken. In the Okavango Delta there are some camps however, referred to as water-based camps, which are able to offer mokoro activities throughout the largest part of the year.
Accommodations
SEASONAL AND WATER-BASED CAMPS IN THE OKAVANGO DELTA
Most camps in the delta will offer canoe tours during the dry season and winter months which brings the highest water levels. There are also water-based camps at rivers, lagoons, and on islands in the heart of the delta which have water throughout the year, even during the summer months. At these camps, you can enjoy canoe safaris throughout the year. However, not all wet camps offer classic game drives. Since mokoro trips are specific to location and season, make sure to communicate to your travel expert, should you wish to do a mokoro safari so they can suggest the best accommodations for you.
Setari Camp
Rra Dinare Camp
Highlights in Botswana
A traditional canoe safari in the Okavango Delta
There is nothing quite like a mokoro excursion in the Okavango Delta. Once used by the local tribes for fishing and as an important form of transport, mekoro (plural of mokoro) have now become part of the quintessential Okavango Delta experience. By quietly gliding along the still waters you can witness the true magnificence of one of the largest inland deltas in the world and observe amazing wildlife moments.
A mokoro safari is a classic activity and highlight on any safari in the Okavango Delta.
You can see spectacular birdlife and other wildlife sightings while on your mokoro trip.
The polers will explain safety measures and how to sit comfortably in this traditional canoe.
What is a mokoro?

A mokoro is the perfect vehicle to navigate the channels, waterways, and floodplains of the Okavango Delta. These traditional dugout canoes used to be made from the trunk of a sausage tree. Some mekoro are still made according to traditional methods, however most are made from fibreglass these days in order to better preserve the natural environment. This way the mokoro lasts longer and no sausage trees need to be cut down.
On the boat's stern (rear of the boat) stands a "poler" who, with the help of a long pole (also known as "ngashi" in the local language), can steer and propel the canoe forwarded. This takes a considerable amount of skill to do effectively and years of practice to perfect. Most polers grew up in the Okavango Delta region and have not only mastered this skill, but also know their way through this labyrinth of channels like no other. Inside the mokoro there usually is one or two seats for guests to sit comfortably on while they float gently along the calm waters.
What makes a canoe safari in the Okavango Delta special?

The main difference between a mokoro safari and most other safari activities is the fact that you move almost silently through the water. You hear only the soft sounds of water sliding of your poler's pole. The remainder of the sounds you hear are those of the nature around you. The fact that your craft does create any engine noise means that potential animals nearby are not disturbed and you can silently observe them from a unique perspective.
You can encounter a variety of wildlife on a mokoro safari in the Okavango Delta, ranging from tiny reed frogs or dragonflies zipping over the water to larger animals such as hippos, crocodiles, and elephants. From your boat, you can really appreciate the size of an African elephant, even more so than when you are seated in a vehicle. If you are lucky, you might even encounter the rare sitatunga antelope too. They are known to be very shy, but in a mokoro, you have the chance to silently approach them.
Is a mokoro safari safe?
Botswana mokoro safaris have the reputation of being a fairly risky activity to undertake on account of the many hippos living in the Okavango Delta and their widely reported grumpy nature. The bottom line is that when dealing with wild animals, there is always a certain element of risk involved due to an animal's rather unpredictable nature. Fortunately, you will never be alone on a mokoro safari, as you will always have an experienced poler with you to guide you on your adventure. Due to the fact that your poler is standing, he has a better vantage point of your surroundings. He can see what lies ahead and would never take any unnecessary risks or put you in harm's way.
What to see on a mokoro canoe safari?
Many describe a Botswana mokoro safari as the most relaxing way in which to explore the Okavango Delta. This is one of the reasons why it is so popular with guests. Also, because you are so close to the water level, you can get stunning wildlife photography angles. Through the silent approach, birders have the chance of encountering a wide varied of birds, some of which are commonly found in the Okavango Delta but rarely spotted elsewhere. The Okavango Delta is home to over 400 bird species, and you can enjoy excellent bird viewing throughout the whole year.
Amazing Birdlife
Your silent approach may get unnoticed
Classic Botswana Experience
Few other activities say Botswana like a mokoro trip
THE ICONIC BOTSWANA WAY TO EXPLORE THE OKAVANGO DELTA
A Botswana mokoro safari is the most extraordinary way to experience the Okavango Delta. The calming effect which leisurely gliding on the water has is wonderfully complimented by the truly beautiful natural surroundings of the Okavango Delta. It is undoubtably one of the highlights of any Botswana safari and one of the best examples of why Botswana is a unique safari destination.
Small Group Lodge Safari
Chobe & Okavango Delta Safari
Places Okavango Delta, Moremi Game Reserve, Savuti Region, Chobe National Park, Victoria Falls
10 Days
USD 6,050 per person
Private Fly-In Safari
Botswana Fly-In Safari
Places Okavango Delta, Moremi Game Reserve, Chobe National Park, Victoria Falls
9 Days
USD 4,570 per person
Private Mobile Camping Safari
Kalahari & Okavango Delta
Places Central Kalahari Game Reserve, Makgadikgadi Salt Pans, Moremi Game Reserve
11 Days
USD 4,490 per person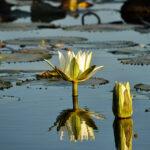 Experience Botswana with us
Speak to one of our local advisors
Let's start planning your trip!
We will get back to you within 2 working days.