Money, Budgeting and Tipping for Botswana
Botswana is not a cheap safari destination, especially when compared to its nearby neighbours. There are a few reasons for this, most notably: it is a deliberate attempt to limit the number of visitors to Botswana in order to preserve the country's pristine landscapes and nature. As a result, you experience supreme wilderness and fantastic wildlife opportunities, making your safari top value for money, no matter whether you are travelling on a relative budget or in luxury.
HOW MUCH DOES IT COST TO GO ON SAFARI IN BOTSWANA?
Budget considerations
This question does not have a straightforward answer, as you have many variables available. Botswana offers something for every traveller and the factors that determine the cost of a safari include:
The season you travel in (high or low)
The length of your stay
Whether you travel in a group or on a private tour
The type of tour you are interested in, guided, self-drive or perhaps a fly-in safari
Your accommodation style, be it camping or lodge
There are also big price differences between various lodges
The amount and type of activities you wish to include
We can include and adjust the factors mentioned above into the perfect itinerary for you. At the same time, it shows why answering the question: "How much does a safari in Botswana cost" is about as difficult to answer as it is quantifying how much is much and how little is little.
This is why it is important you have a rough budget for your trip to Botswana in mind and to communicate your intended budget with us. Whether you plan to travel on a tighter budget or you want to spoil yourself on a special luxury safari, our travel experts will assist you in finding the perfect tour for you.
WHICH CURRENCY CAN I USE IN BOTSWANA?
The national currency of Botswana is called the 'Pula' (referred to as BWP or simply P) and means rain or blessing in the local Setswana. One Pula is divided into 100 'Thebe'.
Do I need to acquire Pula for my trip to Botswana?
Whether or not it is necessary for you to obtain Pula depends on the type of tour you are on. If you are planning a self-drive adventure or plan on stopping in small towns along the way, then we would advise you to purchase some Pula. Often small shops in towns or villages will much rather accept Pula over any foreign currency. Even if they do accept foreign currency, you most likely will not get a good exchange rate in the shop or at the market. It also isn't guaranteed that there will be credit card facilities available should foreign currency not be accepted. So your best bet is to keep some Pula with you to buy a cooldrink at the grocery store or to tip the car guard. It also works out cheaper for you at the end of the day.
If you are on a fly-in safari with accommodations prebooked on a fully inclusive basis, you can probably get by without exchanging any money into local currency. Furthermore, the majority of lodges will accept VISA and MasterCard for additional purchases on site. You will only need cash for souvenirs at local markets and for tips to the staff and guides at the accommodations. These tips can often be given in USD, GBP and EUR.
How can I get some Botswana Pula?
The best way to obtain cash is either by directly withdrawing money at an ATM with a VISA or MasterCard (debit or credit card) or by exchanging money over the counter at a bank. You will find ATMs at banks in most of the larger towns and in the cities. Ideally, you can contact your bank to find out if they have an agreement with any of the local banks which might make things a little easier (and cheaper) for you. Also be sure to let your bank know of your intended travel dates.
If possible, avoid exchanging money directly at the border. The exchange rates you are offered there are usually terrible. If there is no getting around it, rather exchange as much as you need for the time being and then exchange the rest or a larger amount once at a bank or ATM in a larger town or city.
Which other forms of payment are used in Botswana?
Cash (either local currency or USD, GBP or EUR) and credit/debit cards are the main forms of payment which we recommend. VISA and MasterCard are the ones most widely recognised. Traveller's cheques are not encouraged as they are rarely accepted because of fraud, high fees, and long waiting times at the exchange.
Prices for a safari depend on the type of accommodation you choose, the length of your stay and many other factors.
BOTSWANA PRICES AND COSTS OF BASIC AND RELEVANT GOODS
On a guided tour, most or all your meals, transport, accommodations, and activities will already be included and paid for, so you have very little to worry about. If you are on a self-drive tour, you may want a rough idea of the costs of some of the things you might need to purchase along your journey:
Meals: Restaurant meals in towns in Botswana are quite affordable compared to many other destinations in the world. On average you are likely to spend between 12 and 25 USD for a single evening meal (that is including a local beer or two to wash it down). Generally, you can calculate between 25 and 50 USD for three meals per person per day, all at restaurants.
Food: If you are camping you may want to buy your own food and cook for yourself. In this case, we recommend you buy most of your food items in the major cities and then stock up on perishables at local markets or grocery stores along the way. Calculating approximately 20 USD per day for groceries should give a rough idea of what you may need.
Activities: You will find that activities are often included in the camp or lodge price and are separate only in a few specific cases.
Fuel: Fuel prices are relatively affordable in Botswana and are comparable with the fuel prices in the United States. This makes them considerably cheaper than fuel prices in the UK or Germany for example. Keep in mind though that if you plan to drive a lot in 4×4, your fuel consumption will increase and you might need more fuel than you anticipated.
HOW DOES TIPPING WORK IN BOTSWANA
Tipping is not compulsory in Botswana, but it is customary. Camp and lodge staff (excluding guides) can usually be tipped through a communal tip box, often located at the reception desk. The accumulated tips in the tip box will be divided evenly amongst the staff so it is not necessary for you to tip each staff member individually. This method also ensures that those behind the scenes also receive a share of the tip money.
Safari guides, mokoro polers and trackers often do not however, receive a share of the tip box and will hope to be tipped directly. As a qualified safari guide requires extensive training and bears a large amount of responsibility regarding the success of a tour, it is the safari guides who usually receive the highest tip.
Here are some instances where you may want to give a tip and an indication to what the appropriate amount is:
Safari Guides = 10 USD per guest per day
Mokoro polers and trackers = 5 USD per guest per day
Camp and lodge staff = 5 USD per guest per day
Waiters at a restaurant = 10% of the total bill (if not already included)
Car guards and petrol station attendants = Between 5 and 10 BWP (if you are a self-driver)
Tips are always paid at the end of the tour, activity or service. There is no need to feel shy or awkward about tipping in Africa as it is a part of everyday life.
DISCOVER EXCLUSIVE BOTSWANA SAFARIS
OUR EXPERT ADVICE
SHOWING APPRECIATION GOES A LONG WAY
Bring a couple of little envelopes with you, so that when you tip the people who you have spent a lot of time with on your safari (such as your safari guide), you can give them their tips at the end of the tour in a pretty envelope along with some kind words.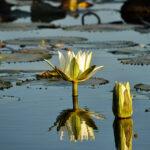 Experience Botswana with us
Speak to one of our local advisors
Let's start planning your trip!
We will get back to you within 2 working days.