Getting to Botswana and getting around
Located in relatively close proximity to the travel hub South Africa, there are a number of convenient ways to travel to Botswana. Once you arrive, you can explore the country with an experienced guide in a 4×4 vehicle, in a rental car on a self-drive trip or by small aircraft on fly-in safaris. With our information on hand, you will know what to expect in terms of any possible travel logistics.
HOW TO GET TO BOTSWANA?
The best airports
Botswana's main airport is the Sir Seretse Khama International Airport in Gaborone (GBE). However, direct flights to Botswana are somewhat limited. Luckily with O.R. Tambo Airport (JNB) in Johannesburg not far away, Botswana is located close to the busiest airport in Africa. Cape Town International Airport (CPT) also offers further connection possibilities.
From South Africa it is then possible to fly to either Maun (MUB) or Kasane (BBK), taking you directly to either of the two main starting points for most Botswana safaris.
What about domestic flights in Botswana?
Most of Botswana's inland flights between airports in Gaborone, Francistown, Maun or Kasane are operated by Air Botswana.
The flights which will then take you to the remote wildlife areas and lodges are operated by chartered or scheduled light private aircraft.
You can explore Botswana on a self-drive trip with a rented and fully-equipped 4x4 vehicle.
Self-drive trips – important to know
Apart from going on a guided safari and leaving the driving to your guide, you can also explore Botswana and its neighbouring countries on a self-drive trip, as long as you're an experienced and confident driver. Botswana is a landlocked country and as such, has land borders with several countries. We have a saying here, "never cross an African border on an empty stomach", because bottlenecks sometimes do form at certain border post and the crossing from one country to the next can take longer than expected. So be sure to have some snacks and plenty of water to drink with you.
Most of the main roads and the roads in towns are 2-wheel drive accessible. The national parks, however require a sturdy 4×4 vehicle and an experienced off-road driver to navigate the sometimes tricky road conditions. This is particularly true in the rainy season.
Drive carefully when driving in Botswana as the road conditions will be different to what you are used to in your home country and whatever you do, do not drive at night. For more information on this, see our section on self-drive in Botswana.
BOTSWANA VISA REQUIREMENTS
What you need to enter Botswana
Travellers from a number of countries including the EU, UK, United States and the Commonwealth Nations can obtain a visitor's visa upon arrival in Botswana. This visa will be valid for 30-days.
Requirements for a visitor's visa on arrival in Botswana are:
A valid return ticket
A passport that is valid for at least six months
Three or more blank pages in your passport
The tourism development levy of 30 USD has currently been put on hold, but may be reinstated on short notice.
Keep in mind that a yellow fever vaccination certificate will be required if you travel from a yellow fever country to Botswana.
If you wish to travel to Botswana with a child you will require:
a certified copy of the child's unabridged birth certificate
a valid passport with at least 1 blank page per entry
a parental consent form from the parent or parents not accompanying the child.
Please keep in mind that visa requirements can change – please contact the Botswana embassy or a consulate in your home country. Botswana-Experience cannot be held responsible if you are refused entry and cannot begin your trip. All costs incurred due to a delay in travelling are for the traveller's account.
TRAVEL AND HEALTH INSURANCE WHEN TRAVELLING IN BOTSWANA
Good to know before travelling to Botswana
We recommend you be prepared for anything with a comprehensive travel and health insurance when travelling to Botswana.
Make sure that your insurance also covers you for any possible activities you may undertake including game drives, bush walks and mokoro trips.
Keep in mind that many of the camps, lodges and activities are located or take place in very remote places and as such, that it is important that any possible emergency medical evacuation is covered.
Finally, it is advisable to carry with you, or to know the emergency telephone number of your travel and health insurance, so that in the case of an unforeseeable event they can be reached straight away.
At the end of the day, we are not health insurance specialists, and we recommend you get in touch with your own personal insurance for further details.
DISCOVER EXCLUSIVE BOTSWANA SAFARIS
OUR EXPERT ADVICE
BE SURE TO ALLOW YOURSELF ENOUGH DAYS TO TRULY EXPERIENCE THE BEAUTY OF BOTSWANA AND ALL IT HAS TO OFFER
Many of the camps and parks are remote, so it may take some time getting there. But once at your camp, soak in every minute that you spend in your supreme surroundings and enjoy your safari adventure of a lifetime.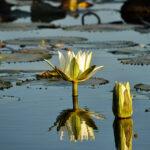 Experience Botswana with us
Speak to one of our local advisors
Let's start planning your trip!
We will get back to you within 2 working days.