Guided Luxury Safaris
Exclusive Botswana luxury safari holidays
Botswana Luxury Safaris
Whether luxury means to you outstanding facilities, excellent service and tastefully decorated camps, or the luxury of having time, having space, having solitude and the opportunity to reconnect with the natural world around you – Botswana certainly is known for being the home of luxury safari holidays on the African continent. You will notice that no matter where you go in Botswana, the attention to detail, the commitment to offering excellent service and the genuine hospitality make it a seemingly effortlessly luxurious safari holiday. Paired with one of the highest concentrations of wildlife in Africa, your safari experience won't get much better than this.
The country's declared strategy of positioning itself as a high-end and exclusive travel destination has provided the context to give you a truly spectacular safari experience: few tourists, world-class national parks and stunning wildlife sightings.
Our luxury tours are tailor-made and customised to your specific wishes. Once we know about your expectations, the focus of your trip and what it is you're hoping to experience, our experienced travel experts will put together a proposal for you. You can get involved in the design of your luxury safari holiday as much or as little as you would like. From hot air balloon safaris over the vast Okavango Delta, bush breakfasts in the proximity of your lodge or camp, to a specific brand of wine for your anniversary dinner – your personal travel expert will take the time to listen to and understand your requests and wishes for this unique trip and make it happen.
You can go on a private luxury safari in form of a road safari, meaning you will travel in one of our 4×4 Toyota Land Cruisers together with your experienced guide who will accompany you for the whole duration; or in form of a fly-in safari, meaning you will fly to each new location by small aircraft and do the safari activities offered by your lodge together with the lodge's guide. Both options will grant you an exclusive experience and show you a magnificent and exclusive side of Botswana's wilderness areas.
Best Botswana Guided Luxury Safaris & Tours
Small Group Lodge Safari
Chobe & Okavango Delta Safari
Places Okavango Delta, Moremi Game Reserve, Savuti Region, Chobe National Park, Victoria Falls
10 Days
USD 6,050 per person
Private Fly-In Safari
Botswana Fly-In Safari
Places Okavango Delta, Moremi Game Reserve, Chobe National Park, Victoria Falls
9 Days
USD 4,570 per person
Accommodations
REMOTE AND PRIVATE
The remote retreats of hospitality that are Botswana's high-end accommodations are an experience all in itself: Safari lodges and tented camps in Botswana cater for a small number of guests at a time only, allowing you a very tailored and exclusive experience. Some camps are so remote, you will only reach them by small aircraft making it an even more private stay. Despite their location off the beaten track, you should expect excellent cuisine and a great selection of drinks. Staff are extremely attentive and focused on providing outstanding service. From bush dinners to horse riding, helicopter flights and sunset boat cruises – your camp can organise a range of activities for you and your family and friends. Experience exclusivity and hospitality in the middle of the bush on your luxury Botswana safari.
Privacy and uninterrupted views at the seasonal San Camp in the Ntwetwe Pans.
The iconic design of Jack's Camp in the Makgadikgadi Salt Pans makes for a unique safari experience.
Exclusivity and remoteness await you at Camp Kalahari close to the Makgadikgadi Pans National Park.
Enjoy stunning views at camps like the Ngoma Safari Lodge in the Chobe Forest Reserve.
Luxury camps offer personalised activities together with trained and experienced guides.
On luxury fly-in safaris, you can reach even the most remote camps in exclusive locations in the middle of nature.
What to expect on a Botswana luxury safari?
A luxury safari holiday in Botswana is a very exclusive and private experience. The country attracts an intentionally low number of travellers to guarantee those who come an experience far away from large groups and high numbers of safari vehicles in the parks. You can look forward to the undivided attention of your professional safari guides, a high standard of service from the lodge and camp staff, excellent cuisine and tastefully designed tented camps. The safari experience itself is spectacular: few visitors in world-renowned national parks, coupled with a high concentration of wildlife make for a more than memorable time in the bush.
Once-in-a-lifetime luxury safari camps and lodges
You will find camps and lodges in Botswana in stunning locations: deep in the Okavango Delta, in the remoteness of the Makgadikgadi Pans or the Kalahari Desert. The intimate retreats in the middle of nature offer an authentic luxury experience in harmony with its natural surroundings. From light-flooded and spacious tents to sunset decks with spectacular views. The attention to detail not only in the design of the camps, but the service as well as the activities is what makes it a very unique experience.
A safari is only as good as the guide who accompanies you
Whether you travel with one of our guides in our 4×4 Land Cruisers or go on a fly-in safari and do activities with the camp's guiding team: you will meet dedicated safari professionals and get to know Botswana through the eyes of locals. Botswana guides are known for their exceptional level of knowledge, training, hospitality as well as English-language skills. Whether you bring your children and travel as a family or spend your honeymoon on Botswana safari, your guide will read the situation, be present when you need them and at the same time give you space so you can experience unique moments in privacy.
Varied safari activities
Relax, be active, learn, be amazed – there truly is something to do for every type of traveller on safari in Botswana. Thanks to spectacular places such as the Okavango Delta and Chobe National Park, water-based activities are part of most if not every Botswana safari tour: traditional mokoro tours, birding boat cruises, photography classes on the Chobe River, or overnight stays on a houseboat. If you love spending time on the water, Botswana is the right place for you to holiday. Adventurous travellers can also go on a walking safari, a horseback riding safari and experience Botswana from a helicopter. On our private luxury safaris, you can incorporate exactly the activities you want to do at exactly the time you want to do them. And leave enough time to relax and enjoy the facilities of the amazing camps you have booked.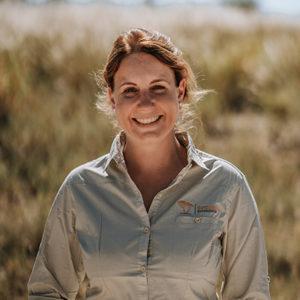 Creating a luxury Botswana safari is not about blindly selecting the most-expensive camps and adding them to your itinerary. It's about taking time to really listen to what luxury means to you, what it is you value and what you're hoping to experience. The luxury of a safari begins with a highly personalised itinerary that reflects your character, your style, your way of enjoying life. And we'll take care of the rest.
Marlene | Botswana Travel Expert
Meet our Botswana Team
Experience Botswana through the eyes of locals.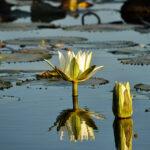 Experience Botswana with us
Speak to one of our local advisors
Let's start planning your trip!
We will get back to you within 2 working days.