Languages and Cultures
We believe that the more you know about a destination, the more you will look forward to visiting it. Armed with a local phrase or two and an understanding of some of the local customs, you can enjoy your travels even more. The people of Botswana are friendly and hospitable and will gladly share their culture with you.
BOTSWANA'S OFFICIAL LANGUAGES
SeTswana and English languages
Botswana has essentially two official languages. English, which is taught in schools and is used in business settings. It is spoken by the majority of people in the urban centres, at the lodges and camps and also to a lesser degree in rural Botswana. The national language of Botswana is SeTswana which is spoken by the Tswana people who make up the largest ethnic group in Botswana.
There is however a total 31 different languages spoken in Botswana. Luckily, you do not need to learn all of them. With English, and a few SeTswana phrases sprinkled in here and there for fun, you will not have any problems.
How to greet someone in Botswana
If you want to greet a group of people in SeTswana, you may use the phrase: Dumêlang. If you are greeting a man you should try: Dumêla rra; or if greeting a woman: Dumêla mma. Alone this gesture of attempting to speak SeTswana, will endear you to most people.
If you are an experienced traveller, you may already know that there are many ways to shake someone's hand in Africa. We will narrow down the handshakes to two main ones for Botswana, in case you don't know them yet. One for an informal greeting and one slightly more formal. Here it goes:
The former is the so called "African handshake", where your hand position is switched vertically in an upward motion, before, without letting go, reverting down again. The more formal handshake is one where you shake with your right hand, whilst you place your left hand on the inside of your elbow. This gesture may also be used when money changes hands.
On safari, your guide will share their local knowledge with you, giving you an insight into everyday life and culture.
CULTURAL CHARACTERISTICS OF THE BATSWANA
The people of Botswana (referred to collectively as Batswana) consist of various subtribes, each with their own beliefs and customs. However, some things are universal in Batswana culture and are useful to know before you set out on your travels:
People are sometimes more reserved and overt public displays of affection are frowned upon.
At the same time though, a sense of personal space as it is regarded in Western society is often not present.
The washing of someone else's underwear or undergarments, even by a laundry service, is avoided.
Always ask for permission first, before taking a photograph of someone. This is not so much cultural but rather a common curtesy.
Different cultural groups in Botswana
A large majority of Batswana are Tswana and thereby are also SeTswana speakers. The rest of the country is made up of smaller ethnic groups, including the original inhabitants of the land, the San Bushmen. These nomadic hunter-gatherers mastered the art of surviving in the harsh Kalahari and more San Bushmen live in Botswana than anywhere else in Africa.
NATIONAL CUISINE
Food and drink in Botswana
Like everywhere in the world, the Batswana have their traditional food which they love eating to this day. But, as different regions have access to different foods, it is misleading to say that Botswana has a unform cuisine. This makes sense when you consider how different the Kalahari is to the Okavango Delta in terms of ecology.
Botswana's national dish
If there is one dish, however which can be described as the national dish of Botswana, it is "bogobe, nama and morogo". "Bogobe" is comparable to a thick porridge made from either millet sorghum or maize and is often accompanied by a tomato-based relish. This is then complemented by "nama" which is SeTswana for meat and can refer to either beef, goat, lamb or game. "Morogo" is the supporting greens and is comparable to spinach.
Eating and drinking while travelling Botswana
Although this is a tasty meal, rest assured you will be greeted with international cuisine at the lodges and camps. The menus of the accommodations consist of recognised international dishes and the food is normally of excellent quality. You will discover that there are some very talented chefs working at top lodges in some of the most remote locations in the African bush.
European wines can be pricey when purchasing them in Botswana, but that is to be expected. What you get instead is a good variety of quality South African wines to enjoy. When it comes to beer, you can choose from European-style lagers. The local St. Louis Lager is refreshing and popular and there are also brands you might recognise from your travels in southern Africa, such as Windhoek Lager, Castle Lager and Lion Lager on offer.
Now that we have covered both wine and beer, you might also want to know about the drinking water situation in Botswana. In the cities and towns, we recommend you avoid drinking tap water as it may lead to an upset stomach. On safari, most accommodations use bore-hole water and this is usually safe to drink. In fact, it can be of excellent quality. However, do always ask the lodge or camp staff as to whether the water is safe for your consumption. If you are unsure and rather not take any risks, then it is best you stick with sealed, bottled water and avoid any ice in your drink.
DISCOVER EXCLUSIVE BOTSWANA SAFARIS
OUR EXPERT ADVICE
TRAVEL WITH AN OPEN MIND AND A SMILE ON YOUR FACE
One of our favourite things when visit Botswana is the friendly people you meet along the way. They really make you feel welcome and are so accommodating.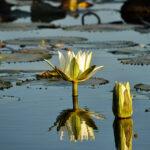 Experience Botswana with us
Speak to one of our local advisors
Let's start planning your trip!
We will get back to you within 2 working days.