Safari Packing List Botswana
You have decided to travel to Botswana and now you ask yourself: what must I pack for my Botswana wildlife safari? Luggage space is limited on safari, so you want to make sure you have brought all the essentials and at the same time, you don't want to carry something with you halfway across the world only to not need it while you are on your travels. We want to provide you with the best advice on what to bring to Botswana, to make packing for your safari as easy and uncomplicated as possible.
WHICH TYPE OF TRAVEL BAG CAN I USE?
Always opt for softshell bags
There isn't much luggage space in a safari vehicle and even less in the small charter aircrafts used on a fly-in safari. Therefore, you should pack your luggage in a softshell bag and avoid any hard-shell suitcases or trolley bags. Many charter airlines in fact, do not allow hard-shell suitcases.
In addition to your main softshell bag, it is always handy to have a small handheld bag with you too. This you can keep with you in the front of the safari vehicle or take with you on hikes or walks; this way you always have your most important items nearby.
If possible, try to make sure that your bags are waterproof. This will give you greater ease of mind when you go on a mokoro excursion or any water activity in general. The waterproof cover will also help against the considerable amount of dust which your bag can get exposed to on a safari.
The weight of your main luggage must not exceed 15 kg and your hand luggage 5 kg. Your safari packing list for Botswana shouldn't be too long: Packing light is the name of the game here – hence why we provide you with a useful Botswana safari packing list.
WHAT TYPE OF CLOTHES SHOULD I PACK FOR MY BOTSWANA SAFARI?
The old motto, "pack for four seasons in one day" definitely rings true in Botswana (especially in winter), but admittingly this is easier said than done. Avoid packing heavy clothing and rather opt for lightweight clothing which can be worn in layers. Safari zip-off trousers for example are very practical because they can both be worn as long trousers and as shorts.
Clothes made from cotton or microfibres are always good. Try to avoid wearing bright coloured clothing and rather go for more neutral colours such as khaki, olive green, brown and so on. Camouflage, or generally clothes with military design, should not be worn as they can lead to trouble with the local authorities.
You will spend most of your time outdoors on safari, but you might want to also pack some normal casual wear for when you are at lodge restaurants or in towns. Do not worry, it does not have to be anything formal or fancy as most places are quite relaxed with regards to their dress code.
A list of clothes which you should pack:
Warm jacket, warm jumper
Wind jacket or rain jacket
Sweatshirt or light jersey
Short-sleeved shirts, T-shirts
Long trousers and shorts
Underwear
Swimming costume
Comfortable shoes (light trekking shoes, trainers, trekking sandals)
Sandals or flipflops
Sun hat
Scarf (for winter)
Beanie (for winter)
Gloves (for winter)
Space in safari vehicles and airplanes is very limited: Therefore you should pack light and always use softshell bags.
WHICH TOILETRIES AND MEDICINE DO I NEED TO PACK?
Fortunately, almost all the camps and lodges will supply you with shower gel (or soap) and shampoo. Sometimes you may also receive body lotion and conditioner at the lodge too. This means you can leave the big shampoo bottles at home and only need to bring the essentials such as:
toothbrush
toothpaste
deodorant
hand sanitizer
wet wipes and
some lip balm
If you are taking medication, particularly prescription medication then you must make sure you have more than enough with you to last you on your entire trip.
Should you wear contact lenses then taking extra lens fluid with you is important. You might want to consider rather wearing glasses for your time in Botswana, as the dust and sometimes dry heat can make wearing contact lenses uncomfortable. If you do wear glasses, best to add a second pair to your safari packing list for Botswana – just in case.
A small medical bag, filled with the following items can also make a big difference:
plasters
antiseptic cream
antihistamine tablets or cream
sunburn relief
anti-diarrhoea medicine
pain relief medicine
nausea medicine
eye drops and
motion sickness tablets
Further items to take with are:
sunscreen with high sun protection factor
mosquito repellent
malaria prophylaxis (after consultation with your doctor or tropical institute)
first aid kit and
a towel
WHICH SAFARI ACCESSORIES SHOULD I ALWAYS TAKE WITH ON SAFARI IN BOTSWANA?
Safari accessories are the items and gadgets which you do not want to forget at home when you are about to go on a Botswana wildlife safari. First and foremost, a good photo camera. Even though it is possible to take great photos these days with one's phone's built-in camera, a real camera with a good lens will still take the best pictures. The best lenses generally for a wildlife safari are wide angle zoom lenses.
A headtorch is another very handy tool to bring along and you should definitely pack a headtorch if you are on a Botswana camping safari. The campsites can get very dark at night, so it is always great when you have some light to see where you are going. A normal torch or flashlight would also work fine, but the advantage of the headtorch is that your hands remain free.
A good pair of binoculars is another safari essential. They enable you to spot animals which would sometimes have been difficult or impossible to see with the naked eye and can provide a great close-up view of animals which are not too far away. Try to bring a pair of binoculars which are not big and bulky, but at the same time still provide you with excellent optics.
Further safari accessories which are useful on a Botswana safari:
UV protected sunglasses
adapter (most commonly the South African Type M is used – three round pins, however there are differences between the lodges so a universal adapter will also be handy)
bird and mammal book for Southern Africa (or as an app on your phone)
older cell phone (sim cards can be purchased on site)
reusable water bottle (to lessen plastic consumption) and
a neck pouch, money belt or hip bag (for money, documents, passport, vaccination card)
WHICH DOCUMENTS DO I NEED TO BRING ALONG FOR MY TRIP TO BOTSWANA?
Most importantly, you need a passport which is valid for at least six months and contains at least three blank pages. There are many countries whose citizens do not require a holiday visa for Botswana for up to 90 days, including most European countries, the UK, USA, Canada, Australia, and New Zealand. But regulations can change, so we urge you to contact the Botswana embassy in your home country regarding current requirements.
You will also require a valid return ticket or other onward travel documents for your return travel. If you do not have this, you must provide proof that you have sufficient funds (such as on your credit card) to purchase a return ticket.
A good tip is to make photocopies of all your important travel documents including your passport, international driver's license (if you are on a self-drive tour) and your return ticket. Remember to store these separately from your original documents.
If you (both parents) are travelling with your under-18 child, then you will need to provide an unabridged birth certificate and a valid passport for the child. If only one of the parents is travelling with the child, then the parent travelling will need to provide an affidavit of consent, court order or death certificate to indicate that the parent not present has given their necessary permission that the child may travel.
DISCOVER EXCLUSIVE BOTSWANA SAFARIS
OUR EXPERT ADVICE
DO NOT MAKE THE CLASSIC MISTAKE OF PACKING FOR BOTSWANA THINKING THE WEATHER WILL ALWAYS BE WARM
This is a rookie error. The winter midday temperatures are pleasant, but the early mornings and the nights can get very cold, even freezing cold. If you are travelling during the dry season (winter), you will want to include a beanie, scarf, and a pair of gloves for the early morning game drives. Perhaps even a pair long underwear – laugh now, but you will thank us later!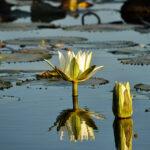 Experience Botswana with us
Speak to one of our local advisors
Let's start planning your trip!
We will get back to you within 2 working days.