Health, Safety and Malaria in Botswana
Botswana is a safe and stable country that you can travel with ease of mind. Crime levels are low, and the people of Botswana are known for their friendly and hospitable nature. Regarding malaria precautions and possible vaccinations for your travels to Botswana, we generally recommend you speak to a health care professional. But perhaps you would still enjoy some tips for along the way. The below information will advise you on some of the most pertinent topics. If you have any further questions, be sure to contact one of our travel experts.
IS BOTSWANA SAFE?
A safe travel destination in Africa
In short: yes. Botswana is in our estimation a safe travel destination and undoubtably one of the safest in Africa. Just like anywhere in the world, certain precautions need to be taken but overall, you will notice that Botswana is filled with people that are warm and welcoming.
If you are on a guided tour, always follow the instructions of your professional guide and you will be in good hands. Pickpocketing and muggings are not a serious concern in Botswana, but we do recommend you avoid carrying large sums of cash and that you are careful with your cameras, cell phones and jewellery when in any town or city. Also never leave valuables lying open in the safari vehicle. Carry your cash and travel documents in a pouch on your body or secure them in your room or the lodge's safe.
Botswana is a politically stable country and the chances of encountering any acts of terrorism or political unrests on your travels are very low.
Safety on self-drive tours
Do be wary of the roads if you are on a self-drive safari. Even the main roads can be littered with potholes, and you must always be on the lookout for any possible animals on the road. Because of this, never drive at night-time. On a guided tour, your guide will also be you driver so that is something you do not need to be concerned with.
You will always receive a safari briefing before every departure by a member of our operations team on site. Your safety is extremely important to us and our operations team in Botswana is available to assist in any emergency seven days a week, 24 hours a day ensuring you a safe and wonderful stay in Botswana.
To enjoy a self-drive safari and be safe on the road, you should be a confident and experienced drive.
SAFETY TIPS WHEN ON SAFARI IN BOTSWANA
When on safari in Botswana you are in one of the most pristine wildlife areas in the world, where nature still rules supreme. We are guests in the home of the animals; and they must always be respected.
Here are some safety tips to keep in mind when on safari in Botswana:
Always stay in the vehicle and only get out when allowed at designated stops. Do not hang out of the vehicle or climb onto the roof of the vehicle.
If you are on a self-drive safari, pay attention to the animals' behaviours. Do not disturb them and always keep a safe distance.
This is particularly true when encountering a herd of elephants. Splitting a herd of elephants, especially the females from their young, can make them very agitated.
If you are on a guided safari, remember your guide is a trained professional. Always follow the advice given by your guide for you own safety and that of the animals.
If you are camping, never leave food in your tent as it may attract wildlife.
We also have some additional safety advice for walking safaris in Botswana:
Do not make too much noise, as you may startle the animals.
Avoid wearing any bright and colourful clothing.
Rather skip the perfume when in the bush, the smell might irritate the animals.
Always stay close to the group and keep to the guide's pace when walking.
IS BOTSWANA A MALARIA AREA
Minimising the risk of mosquito bites
The northern section of Botswana is considered a moderate malaria risk area. So if you are traveling to this region, be sure to consult your doctor, travel clinic or tropical institute for more detailed information regarding prophylaxis and their possible side-effects. There are however also things which you can do to minimise the risk of getting stung by mosquitos in general (because that never is fun anyway):
Wear long sleeved shirts, long trousers, and closed shoes in the evenings.
Put on insect repellent for the hours when mosquitos are most active.
Spray your room or tent with mosquito spray before going to dinner and making sure all the window and doors are closed (and the lights are off).
Make use of the mosquito netting around your bed if provided by your accommodation.
WHICH VACCINATIONS ARE RECOMMENDED FOR TRAVELLING IN BOTSWANA?
There are a couple of vaccinations which you might want to consider renewing before travelling to Botswana. They are fairly common and recommended by the CDC and WHO. They include tetanus, hepatitis A and B and polio. We once again advise you to speak to your doctor, travel clinic or tropical institute for more information.
Also keep in mind, the custom officials of Botswana will require proof of a yellow fever vaccination should you be arriving from a country with risk of yellow fever.
DISCOVER EXCLUSIVE BOTSWANA SAFARIS
OUR EXPERT ADVICE
THERE IS A VERY PERSISTANT MYTH THAT GIN AND TONIC WAS USED AS AN ANTIMALARIAL BACK IN THE DAY
Feeling inspired by this newfound knowledge, you may want to incorporate a G&T sundowner at the end of your safari day… for health purposes of course.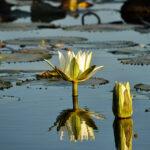 Experience Botswana with us
Speak to one of our local advisors
Let's start planning your trip!
We will get back to you within 2 working days.