Chobe National Park
Founded
1960 (Game Reserve) | 1967 (National Park)
Best time to visit
June to October
A wildlife enthusiast's delight
Explore the different regions of Chobe and look for the Big Five on classic game drives, walking safaris, boat cruises and even a houseboat. It is the oldest and one of the most diverse national parks in Botswana.
A safari highlight in Botswana
Chobe reminds you of a time when animals roamed unopposed. When nature ruled and people only observed. The Chobe River forms the lifeblood of this area; and the huge Chobe National Park can be split into four distinct regions: Serondela Area (Chobe Riverfront), Savuti Marsh, Linyanti Marsh, and Nogatsaa Woodlands. Each of these containing unique ecosystems and phenomenal game viewing opportunities. Any time of year is a good time to visit the Chobe National Park, as the park offers something special no matter whether it is the green season or the dry season.
During the dry season, the Chobe Riverfront is the scene of a wildlife spectacle. In addition to the thousands of elephants and buffalos congregating at the water's edge you can also see giraffes, zebras, sable, red lechwe and the puku in large numbers. Lion and hyena sightings are common here and with the reintroduction of white rhinos in the region, you might even get lucky and spot one of these magnificent beasts.
The remote section of Linyanti is famous for its high concentration of predators. Located in the north-west of the park, along the Linyanti River and converging with the Kwando River to form a marsh land of rugged beauty. Here you have the ideal conditions to escape the crowds and marvel at the magnificence of your natural surroundings.
The Savuti region lies to the south-west of the Chobe National Park, and you will be amazed at the high density of wildlife to be found. It is also here where the elephant hunting lions roam. A truly unique phenomenon, not known to occur anywhere else. Savuti can be enjoyed any time of year as the Savuti zebra migration during the green season shows. Each year thousands of zebras migrate, followed closely by prides of lions. Further possible sightings of hyenas, leopards, cheetah, and the rare African wild dogs make this the land of predators.
The most remote and secluded section of Chobe is the Nogatsaa Woodlands. With mopane trees dotting the landscape the Nogatsaa Woodlands offer a beautiful, off-the-beaten-track experience. Particularly for the Botswana enthusiasts, this region allows you to witness eland, oryx and roan antelopes in the true wilderness of Botswana.
Chobe and all its regions are a dream for wildlife enthusiasts. You have the option of game viewing on a game drive, on a boat cruise or intimately getting to know the bush on a walking safari. Whether you choose to spend your nights camping on one of the unfenced campsites in the national park or overnighting in a charming and intimate lodge on the waterfront, there is something for everyone and unforgettable memories to be made.
The Gentle Giants
You can see more elephants in Chobe than in any other park in Africa. Ample opportunities to study their intricate social behaviour – as well as take great photos.
Different Activities
You can explore Chobe by vehicle, boat or on foot. You decide how you want to experience your adventure.
A Rare Sight
You can observe the rare puku antelope, the only place in Botswana where you can do so. You might even hear the puku's distinct territorial call.
Explore Chobe National Park on game drives with our experienced guides who will share their local knowledge with you.
A photographic safari on a Chobe River boat cruise – you can experience different activities on a Chobe Safari.
The national park is known for its high density of elephants and large herds of buffaloes.
From woodlands to swamps and riverbanks, you will see different types of vegetation and wildlife habitats.
The Savuti section of the park is known for its many predators and big cats such as cheetahs, lions, and leopards.
WHEN TO GO
Best time to go to Chobe National Park
You can visit the Chobe National Park at any time of year. The green season offers you rich and beautiful landscapes, fantastic birding opportunities and the chance to witness thousands of zebras migrating. Hippos and crocodiles can be seen all year round. The dry season brings countless elephants and buffalos to the Chobe River's edge as well as lions, leopards, hyenas and if you are lucky, African wild dogs too.
Dry Season
June to October
Best for elephant sightings by the river
Green Season
November to March
Best for birding and landscapes
Why to go
One of the best places to see elephants
When you are on a river cruise and you see the golden glow of the sun setting across the mighty Chobe River, surrounded by elephants and buffalos on the river's banks, then you understand what makes Chobe so incredible.
Chobe is an amazing area to explore for first-time visitors but also repeaters. From riverfront to woodlands, the different habitats are home to different wildlife species which means something new to see every time you visit.
Luisa | Botswana Travel Expert
Classic Game Drives
See the Big Five and many more
Boat Cruises
Explore the mighty Chobe River
Houseboat Experiences
Overnight on a houseboat on the river
Things to do
Explore Chobe on land and on water
You can combine game drives, boat cruises and walking safaris to create the most unique and unforgettable memories.
Classic Game Drives
Houseboat Experiences
Chobe River Front
Large herds of elephants and buffaloes come to drink at the river
Linyanti Region
A more remote area famous for its high density of predators
Savuti Region
Known for its annual Zebra Migration and elephant-hunting lions
Nogatsaa Woodlands
Eland, oryx and roan antelopes in the most remote area of Chobe
CHOBE WILDLIFE REGIONS
Fantastic wildlife viewing in the Chobe National Park across four distinct regions
While Chobe is best known for its large herds of elephants, it can be separated into different regions, each famous for impressive wildlife encounters: Chobe River Front, Linyanti, Savuti, and Nogatsaa Woodlands.
Where to stay Chobe National Park
Chobe Bakwena Lodge
Chobe Elephant Camp
Old House Guest Lodge
Thobolo's Bush Lodge
Tlouwana Bush Camp
Location
Chobe National Park is Botswana's third largest national park and located in the North of the country. Kasane is the closest town with an international airport. From there, you can reach it by road or fly to one of the airstrips within the national parks.
Experience the Chobe National Park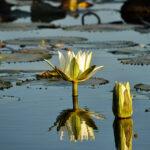 Experience Botswana with us
Speak to one of our local advisors
Let's start planning your trip!
We will get back to you within 2 working days.